Stevie Wonder: Sixty-five and still amazing
RISASI DAIS | 10/22/2015, 1:21 p.m.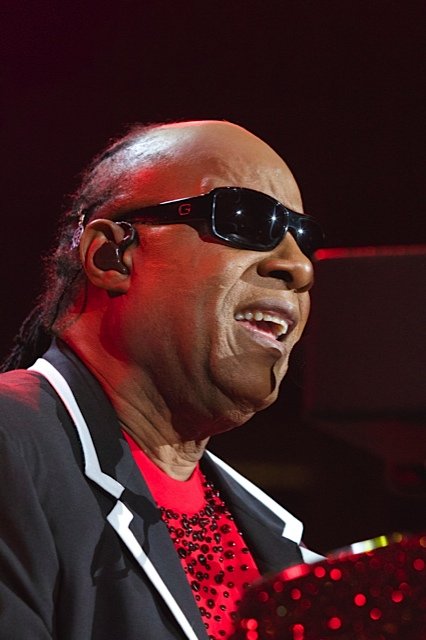 Special to the AmNews
Last week, Stevie Wonder stood on the stage of the Prudential Center in Newark, N.J., and said that he asked his staff whether they thought people would show up for his second concert in Newark, since he'd already performed an earlier concert there in April of this year. And indeed, thousands of diehard fans of Motown's former child prodigy attended his second concert in six months to show their everlasting love for Wonder singing all the songs of his "Songs in the Key of Life" album.
At 65, the former Little Stevie Wonder of Motown Records has become a legendary musical performing genius who has recorded more that 30 U.S. top 10 hits, won 25 Grammy Awards and sold over 100 million records.
In September of 1976, Wonder released the double classic album "Songs in the Key of Life," which became No. 1 on the Billboard charts and is still considered his crowning masterpiece. Last week, Wonder performed the entire album at the Prudential Center, backed up by 30 highly talented singers and musicians. Wonder's incredible performance was extended to over three hours of sizzling, hot, funky music that consisted of 21 songs from the Grammy Award-winning album.
Ed Sheeran, the popular singer, songwriter and musician from the U.K., was Wonder's surprise music guest. He joined Wonder in singing "Pastime Paradise" and "Superstition."
Initially, Wonder was escorted onstage by LaTrelle "Munchie" Simmons, one of his lovely and fabulous backup singers. For five minutes, Wonder addressed the audience, saying, "Many of you came out tonight and I sincerely thank you for coming and I love you all." He also expressed his concerns for the many social ills and tragedies that are presently occurring throughout the world.
Ironically, during the 50th anniversary of the Selma, Ala., march, when Dr. Martin Luther King marched across the Edmund Pettus Bridge protesting for Black folks' right to vote, Wonder, at 65, has consistently created classic powerful songs over a 50-year period that have reflected the social-political conditions of society. Wonder, as an activist-artist, led the call and march for several years to make King's birthday a national holiday. He also opposed Apartheid in South Africa, refusing to perform there until Apartheid was eradicated and Nelson Mandela was freed. He also was featured in a duet with Bruce Springsteen on the "We Are the World" African Famine Relief project.
After addressing the audience, Wonder sat at the keyboards and began singing "Love's in Need of Love Today." Performing, Wonder alternated between playing the harmonica, the piano and electronic keyboards.
At the end of the concert, Wonder stood up from the piano and yelled, "We did it! We played the entire 'Songs in the Key of Life' album!"
Just as the audience thought that this historic concert had ended, Wonder yelled to the audience, "Are you ready to go home?"
Immediately, the audience response was "No!" Wonder then stood up, hovering over a turntable of DJ equipment, and was transformed into an imagined hip club DJ named "Chek, Chek, Boom" as he played various funky songs while his backup singers appeared on the front of the stage, dancing and grooving to the music.
As an encore, Wonder returned to playing the keyboards, singing "Can't Feel My face," "Do I Do," a medley of "Overjoyed," "My Cherie Amore," "Signed, Sealed and Delivered" and "I just Called to Say I Love You". Finally, Wonder was joined by Sheeran in singing "Superstition" as the spirits of everybody were raised to another level inside the Prudential Center as people danced in the aisles, hollering, "We love you, Stevie," to Wonder's pulsating rhythms.