Brooke Obie: A pen, faith and lots of love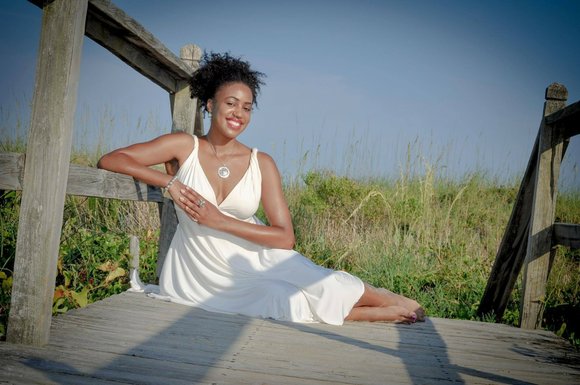 "I know that God loves me." That statement is what has kept writer and editor Brooke Obie afloat through some of her more trying times. The military brat (who claims Gainesville, Va., as her hometown) had a hard time in her first two years living in New York as an MFA student at the New School.
"In D.C., I had a base of family and friends, and in New York, I had none of that. It was very lonely and not at all what I had envisioned for myself. It was tough. My online community was a big support for me at the time. I would ask for prayers and I would have people in my DMs praying for me and I would pray for them," said Obie, who, by that point, had racked up a bachelor's degree in sociology from Hampton University and a law degree from Mercer University.
But in the past year, Obie has felt more comfortable calling New York home. She acquired the title of digital editor-at-large for Ebony ,agazine—a position she credits with taking her journalism career to new levels. Obie is now the senior digital editor at a faith-based publication and still freelances for other outlets. She also keeps her personal blog, www.districtdiva.com, updated. The 30-year-old progressive feminist is a fearless writer who tackles tough subjects such as the realities of having a spiritual crisis and how faith leaders have played a part in today's civil rights movement.
"I had to accept that there are some problematic things in the Bible. It's important to understand that some of the Bible could be a reflection of the times and culture and not necessarily applicable to today. I just go back to the fact that the God of this universe loves me and therefore the fact that I have boobs should not prevent me from doing anything that falls in line with my God-given purpose."
Obie sees her purpose as giving and receiving love. Part of her journey has been becoming of a member of Renaissance Church in Harlem, a growing congregation where Obie says she feels welcome. When not fellowshipping at her new church home, Obie is spending time with her mentee from Girls Write Now, a mentoring organization that pairs professional women writers with high school girls who like to write.
"I got to where I am now because people took an interest in my career when they didn't have to do that. I know how much mentoring impacted my career, so being a part of Girls Write Now is my way of giving back and it's been great. My mentee is super sweet and awesome," said Obie, who acknowledges that she wishes shed had a writing mentor of her own again.
With a church family and chosen family (friends) at her side, Obie feels she is in a good place now, but she is grateful for the bumps in her journey. For aspiring writers hoping to "make it" in New York, Obie has advice. "For people who are looking to move to New York and be a writer, you have to embrace 'No.' You will hear it a lot. It's fine. It's one step closer to 'Yes.' I was a finalist for a Fulbright and didn't get it. I had to move back in with my parents after law school for a while, too. I felt like a failure, but I had to go through those things to shape who I am now. I am a better person from those experiences," said Obie.
When she's not binge watching television or participating in her knitting group at her job, Obie is working with her agent on getting her historical fiction novel, "Book of Addis," published. The book is the first in a trilogy that chronicles the exploits of a dynamic, young Black woman born into the brutal slavery of 18th century Virginia. It is a lyrical and passionate tale about love, faith, Blackness, womanhood and freedom. There are pages full of vivid action sequences, warm exchanges between young lovers and the savagery of mental and physical bondage. Obie hopes a publisher will pick up "Book of Addis" in the near future.