Blondell Cummings: A remembrance and food for thought
ZITA ALLEN and CHARMAINE WARREN | 9/10/2015, 4:13 p.m.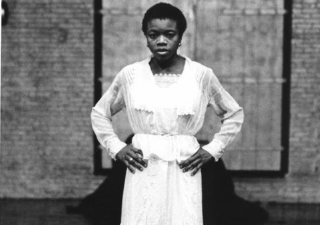 A short, stocky woman in a long, white dress stands alone on a dimly lit stage. Squatting, legs wide, she hunches over a cast iron skillet, which she has gripped with her right hand as she jiggles it back and forth, up and down, round and round, with rhythmic intensity and energetic animation. Dipping a finger into its imaginary contents and sticking it in her mouth, a look of satisfaction flashes across her warm, round, friendly face as she continues to jiggle the skillet.
The image is one of many memorable ones from African-American dancer-choreographer-teacher-icon Blondell Cummings' brilliant 1981 dance "Chicken Soup." It reflects her ability to capture the universality of personal movements and gestures, erasing blurred lines between genres such as post-modern and what some call Black dance. In fact, Cummings is one of those who prove that, at its heart, dance is a universal language that can speak to everyone. In 2006, "Chicken Soup" was designated an American masterpiece by the National Endowment for the Arts. Although it is Cummings' most famous piece, it is but one of many in a distinguished body of work.
For some, the fact the first 10 years of her career were spent with the avant-garde Meredith Monk's the House placed Cummings, squarely in the postmodern camp. Yet Carl Paris wrote that Cummings once told him "her African and African-American dance training was as equally important as that of her training with Martha Graham, Jose Limon and Meredith Monk and the House," while underscoring the ease with which she slipped from one community to the other. This ability to defy cultural divides in a search for common ground in her 1971 work "Point of Reference" prompted New York Times critic Anna Kisselgoff, to identify the young Cummings as a choreographer with "particular promise." Needless to say, Cummings' creative life exceeded that "particular promise" and more.
Cummings was born in 1944 to Oralee Williams and Roscoe Cummings, who left a life of picking cotton in South Carolina when she was young for the promise of New York and jobs as a nurse's aide and cab driver. (Her work "3B49" was a tribute to her father, who was killed by a passenger in 1985.) She was the oldest of their three daughters. Family was very important to her. "We were really close," said her youngest sister, Gaynell. Hilda is the middle sister. "Blondell was an awesome older sister, and she had a lot on her shoulders as the oldest. She was the first to go to college, and she made sure that we did too. Everything fell on her."
Cummings earned a B.A. from New York University and a M.A. from Lehman College. In addition to being an original member of Monk's company, Cummings performed with others, including the Rod Rodgers Dance Company and Ismael Houston-Jones, and created her own Blondell Cummings and Performers, as well as a cross-cultural arts collaborative, Cycle Arts Foundation, that Dance Magazine's Wendy Perron described as being "devoted to bringing artists and audiences together to focus on the poetics of the human condition." Her work has been performed on many stages as her reputation as an innovative choreographer crossing boundaries and merging dance with other art forms has taken her around the world. She has also taught at numerous institutions, including New York University, Cornell University and the City University of New York. Her wisdom and insights have been a highly valued addition to dance panels, including the Selection Committee of the prestigious New York Dance and Performance Awards (the Bessies), which, in a Facebook post, joined the many voices mourning "the loss of the indomitable" Cummings.