Addie Waites Hunton, a crusader for justice and women's rights
Herb Boyd | 2/11/2016, 3:40 p.m.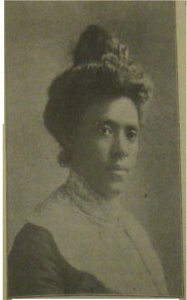 If William Alphaeus Hunton Jr. is an "Unsung Valiant," as his wife, Dorothy, wrote in his biography, Hunton's mother was an even more obscure personality, but one, like her son, worthy of consideration.
We should note, first of all, that Alphaeus was an assistant professor of English at Howard University for 17 years before resigning the position to become active with Paul Robeson as executive secretary of the Council on African Affairs. Later he would migrate to Ghana and continue the work on the "Encyclopedia Africana" started by W.E.B. Du Bois.
From this brief paragraph there is at least a hint of Alphaeus's pedigree, and it is indeed impressive. His grandfather Stanton was a follower of John Brown.
His mother, Addie Waites Hunton, was born June 11, 1866, in Norfolk, Va. Her mother died when she was very young, and she was sent to Boston to live with her maternal aunt. As a student at the prestigious Boston Latin School, she excelled and subsequently attended Spencerian College of Commerce in Philadelphia, where she was the first African-American graduate.
She further studied at City College in New York City and at Kaiser Wilhelm University in Strasburg, Germany, according to Dorothy Hunton. But another biographer places the college in France. Trained as a sociologist, Waites Hunton taught at Alabama A&M and for a while in Norfolk.
In 1890, she met William Alphaeus Hunton Sr. and three years later they were married and soon living in Atlanta, where he was among the pioneering Black leaders at the YMCA. During this period, Waites Hunton worked as a secretary at Clark College when she wasn't busy helping her husband in his duties.
By 1906, following the race riots in Atlanta, they moved to Brooklyn. She had four children, but only two of them survived, William Alphaeus Jr. and Eunice, as Dorothy Hunton noted in her book.
Because of her skillful proficiency and sense of commitment now to the YWCA, she was given larger responsibilities. When she was appointed secretary in the organization, she began traveling to recruit Black women to the Y. For a year, 1909 to 1910, she studied in France, taking her children with her. Four years later her husband died just as World War I was erupting.
During the war, she and two other women became the only women workers assigned by the U.S. Army to work with 200,000 segregated Black troops stationed in France. Along with Kathryn Johnson, who served with her, Waites Hunton wrote a monograph on the experience, "Two Colored Women With the American Expeditionary Forces" (1920). Mainly assigned to comfort the Black troops who primarily prepared burial grounds, they reflected on the arduous tasks before them. "Strange that the value of such a task did not gather full significance in the minds of all American soldiers. Strange that when other hands refused it, swarthy hands received it! Yet, perhaps, not so strange, for Providence hath its own way, and in those American cemeteries in France we have strong and indisputable evidence of the wonderful devotion and loyalty and the matchless patience and endurance of the colored soldier."