NYCHA: Harlem developments not being sold and demolished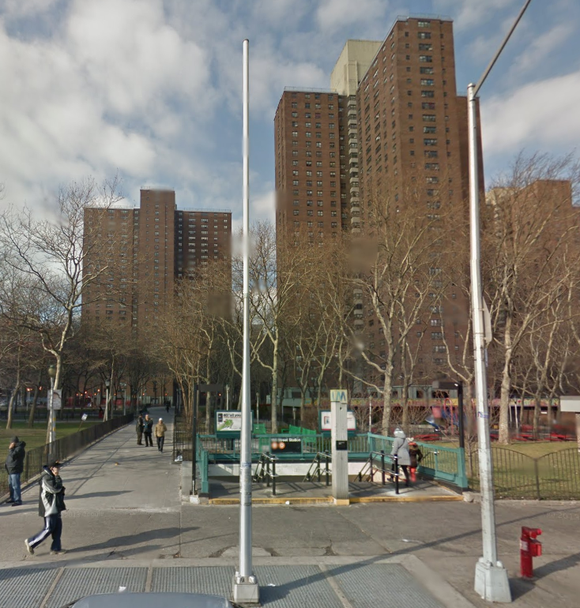 The New York City Housing Authority says rumors that three Harlem housing projects have been sold to a "billionaire housing developer" and are slated for demolition are not true.
The allegation stems from a WordPress blog post with the headline, "Harlem Housing to Be Demolished," which appeared on the Internet on July 8. The WordPress account and blog entry is authored by someone going by the name Jett Rubenstein, claiming to be a Harlem resident from Boston and claiming to have gotten the information from a "reliable source."
According to the blog post, the billionaire developer bought the Polo Grounds Houses, the Alexander Hamilton Houses and the Harlem River Houses, with plans to demolish them and build luxury housing.
Only 10 percent of the new housing would be affordable, and displaced NYCHA residents would get monthly vouchers and a "small moving stipend."
Here is the full post: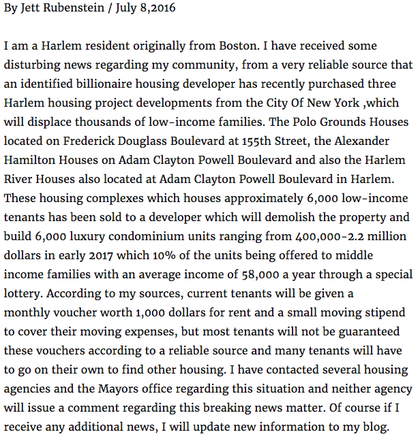 The blog post has gone viral, getting heavy rotation on social media. It had been shared more than 10,000 times on Facebook as of Monday afternoon.
In a statement to the AmNews, a NYCHA spokesperson said the rumors are completely false and that the agency has no plans of demolishing any public housing developments. The agency added that there are programs in place to prevent such a thing from happening.
"These rumors are 100 percent not true and irresponsible," the statement said. "Every step NYCHA is taking under NextGeneration NYCHA, the authority's 10-year strategic plan, is to prevent the demolition and abandonment of public housing like other cities have done. NYCHA does not know the source of these false statements, which are intended to incite little more than panic, but residents can be assured they are completely untrue and baseless."
On hearing that the information online was false, people had mixed reactions, ranging from relief to skepticism.
One of my biggest fears in life was being homeless," said Marcelett Douglas. "When I read this blog on Facebook, it caused me to panic and have anxiety."
Bobbie Foster in Queens said he's not buying NYCHA's response to the blog post.
"If it is not now, it may be on the agenda for later," he said. "Don't get comfortable, as a whole lot of change has come and is coming to Harlem."
Rubinstein did not respond to the AmNews about the allegations on his blog when contacted.