Liberty head into Olympic break
Lois Elman | 7/28/2016, 10:54 a.m.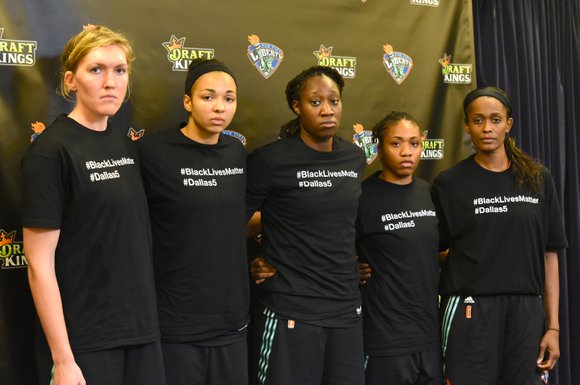 The WNBA is currently on Olympic break until Aug. 26. While some players head to Rio to represent their countries in Olympic play, others are taking well-deserved rests. New York Liberty players not Rio bound are off until Aug. 7, when they reconvene for practice and community appearances.
The Liberty played back-to-back games last week, gaining an 88-81 road win over the Washington Mystics Wednesday, and then dropping a home game to the Indiana Fever 82-70 at Madison Square Garden Thursday. After that game, both teams expressed anger and frustration over the news that they—as well as the Phoenix Mercury—would be fined for wearing black T-shirts during warm-ups in support of the Black Lives Matter movement.
Each team was to be fined $5,000 and each individual player $500 for violating the league's uniform policy, which states uniforms must not be altered in any way. The Liberty staged a media blackout of sorts, refusing to answer questions about the game. Standing as a collective unit in the Liberty locker room, they spoke only about why they protested and how the killing of unarmed Black individuals affects them.
The WNBA fines seemed particularly unfair, given that NBA players have engaged in similar protests without any fines. At the recent ESPY Awards LeBron James, Carmelo Anthony, Chris Paul and Dwyane Wade encouraged fellow athletes to speak up and create change.
Approximately 70 percent of the players in the WNBA are African-American. It should also be noted that all players on the Liberty, Mercury and Fever, regardless of race or ethnicity, stood united. Since the league's inception, the players have been held up as role models. Taking that seriously, they used their platform to express solidarity, unity and shared purpose.
On the evening of July 23, WNBA president Lisa Borders released a statement noting respect for the players "expressing them themselves on matters important to them." Borders went on to say that during the Olympic break, the league will work with the players and their union "on ways for the players to make their views known to their fans and the public." All fines have been rescinded.
This Sunday, July 31, there will be a women's basketball double header at the Garden. Canada will take on France in the opener and then the U.S. Olympic team plays Australia.