American Ballet Theater's Project Plié: Making ballet dreams come true for children of color
Zita Allen | 6/3/2016, 12:45 p.m.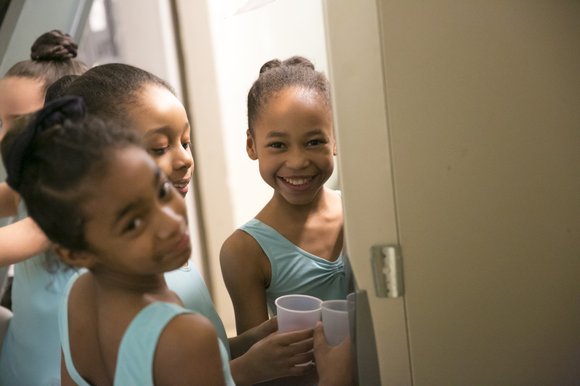 An inconspicuous building in Manhattan's Flatiron District is not only headquarters to the American Ballet Theater but also a wonderland of sorts for some 22 children of color enrolled in the JKO School Children's Division Bridge Class, which is a local component ABT's national Project Plié initiative. The children came from a number of community-based schools, including Harlem School of the Arts, Uptown Dance Academy and Brooklyn's Covenant Ballet Theatre.
In a mirrored studio on the third floor, one of several just off a long winding hallway lined with posters featuring ABT stars, past and present, Project Plié students, aged 8 to 13, are being introduced to a dance technique that, after years of discipline and dedication, could transform them into what one dance legend aptly called "acrobats of the Gods."
For now, the children attend ballet class once a week. There exercises range from the simple to slightly more complex, all with an eye towards both introducing novices to ballet and accessing the strengths of those who've had some previous training. Once each term, on parent observation day, family members sit on folding metal chairs placed along the studio's mirrored walls and watch their darlings show how much they have learned.
Classes usually begin at the barre with legwork and footwork, and then students move to the center of the floor for unsupported jumps and turns before they go across the floor with traveling steps. Exercises are designed to strengthen and stretch the dancers' bodies. Here, the teacher first demonstrates the steps. Then, the class repeats them as she counts out loud or claps, keeping time with the pianist accompanying the class. Occasionally, she injects corrections or praise. Sometimes she asks a student to demonstrate. A young boy is asked to show a jump. He springs into the air with ease. She compliments him before signaling the others to do the exercise. Asking a young girl in the front row to demonstrate another step she praises her, "Good, Paige." Though Paige's face is emotionless her eyes shine with delight. Later, the teacher, Rodica Borddeianu, says, "I love this class. They always give 150 percent."
Paige's mother, Yvana Nair, proudly tells an observer, "I was very excited for Paige when she was chosen to take classes here at ABT." The 12-year-old and her 10-year-old sister, Elle, were accepted into Project Plié after auditioning with some 50 other youngsters last year. "Paige is a big fan of Misty Copeland and her dream was always to study at ABT," the mother adds.
"These kids are hungry for this," says ABT's Project Plié Coordinator Monica Stephenson. "You can see the eagerness in their faces. It's refreshing." Stephenson says Paige has been invited into ABT's Jacqueline Kennedy Onassis School Level 3 and Elle into Level 2. Now, both will begin studying at ABT several days a week taking ballet, character dance and body conditioning. That is good news. Of their entire bridge class, eight have been invited into the JKO School Children's Division and 12 have been invited to repeat the bridge class program a second year.