Mathematician Dorothy Vaughan, a pioneer in the Space Age
Herb Boyd | 6/16/2016, 2:26 p.m.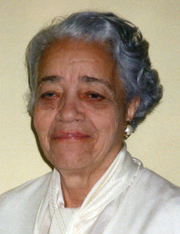 One of the most fulfilling rewards from the Classroom column are the number of suggestions I get from readers about personalities they would like to see profiled. A recent email is typical. Have you considered writing something about three African-American women who worked at NASA in the sixties? I had not, but upon investigation I discovered a most amazing piece of history that has been virtually ignored. The three women cited are Katherine Johnson, Mary Jackson and Dorothy Vaughan. But there were several others. Space here cannot accommodate all of them, but I will begin with Vaughan, who died Nov. 10, 2008. She was 98 when she died in Hampton, Va.
Vaughan was born Sept. 20, 1910, in Kansas City, Mo. She was seven years old when her family moved to Morgantown, W. Va. A graduate of Beechurst High School, Vaughan attended Wilberforce University in Zenia, Ohio, and received a B.S. degree in 1929. By then she was already a member of the Zeta Chapter of Alpha Kappa Alpha sorority.
In 1943, she moved to Newport News, Va., leaving her position teaching math at Robert Russa Moten High School for employment as a mathematician at Langley Field for the National Advisory Committee for Aeronautics. The laboratory at Langley, like so many federal agencies, had been prompted by President Roosevelt's executive order to begin hiring African-Americans. At the laboratory at NACA, there was an increasing need for people qualified to process aeronautical research data. This was right in Vaughan's bailiwick.
Roosevelt may have read the riot act to the agencies, but when Vaughan began working at NACA she was assigned to the segregated "West Area Computing" unit, comprised of Black female mathematicians. Johnson was among the mathematicians working alongside Vaughan. Jim Crow was still alive and well in America, and despite their ability and the need they fulfilled, they still worked, ate and used bathroom facilities marked for them alone. Even so, the women would later distinguish themselves, both as a group and individually.
Having come of age in the South, the restrictions did not disturb Vaughan's quest to be the best at her job and to garner accolades and appreciation from her supervisors, all of whom were white. In 1949, she was promoted to lead the group. She was the laboratory's first African-American supervisor. The promotion brought her new recognition and wider visibility. It was a role she relished, and she was soon making valuable contributions to the project, most notably in compiling a handbook for algebraic methods for calculating machines.
"Vaughan was a steadfast advocate for the women of West Computing, and even intervened on behalf of white computers in other groups who deserved promotions or pay raises," according to thehumancomputerproject.com. "Engineers valued her recommendations as to the best 'girls' for a particular project, and for challenging assignments they often requested that she personally handle the work."
For ten years Vaughan was the supervisor in charge of a coterie of talented Black women. In 1958, NACA became NASA, and the transition removed the last vestiges of segregation. Vaughan and many of the former members of West Computing joined the new Analysis and Computational Division, "a racially and gender-integrated group on the frontier of electronic computing," the NASA website noted.