JAZZ NOTES: Hope Way, Green Film, Dee Dee Bridgewater, Sistas'
9/16/2016, 2:05 p.m.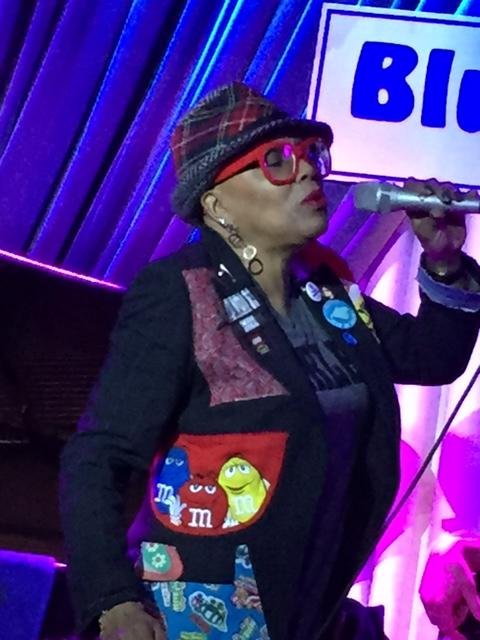 The late pianist St. Elmo Sylvester Hope was ushered into jazz history based on his musicianship, and as a genius composer and arranger. Last weekend his legacy was enhanced with the co-naming of Lyman Place as Elmo Hope Way—Jazz Pioneer (in the Bronx).
Elmo Hope, wife Bertha and baby daughter resided on this tree-lined block after relocating from California. There he wrote some of his best music, and many musicians came to visit, including his closest friends, the pianists Thelonious Monk and Bud Powell.
T.S. Monk III (Monk's son) noted, "Naming a street after Elmo Hope is a great thing. It demonstrates how important this music called jazz is and the significant contribution made by Elmo."
There were comments by NYC Councilwoman Vanessa L. Gibson (16th District, Bronx), Bob Gumbs, Bobby Sanabria and professor Mark Naison, Fordham University.
Teary-eyed Bertha Hope noted what it took to make this day happen and how proud she felt on this special occasion, and how honored Elmo would feel for such recognition. Joan Allen-Canada from California offered a heartfelt poem.
After the unveiling, a reception took place at the Bronx Music Heritage Center Lab, where Bobby Sanabria is the co-founder.
Bertha Hope and her trio (bassist Kim Clarke and drummer Lucianna F. Padmore) performed Elmo's tunes "Stars Over Marrakesh" and "One Second Please." She was later joined by guest trumpeter Jimmy Owens (who also grew up in the neighborhood), drummer T.S. Monk, saxophonist George Braith and vocalists Keisha St. Joan and Monica Hope (daughter).
The Bronx has such a rich history of great musicians, and Elmo Hope Way is yet another aspect to inspire generations to come.
The guitarist Grant Green died at the early age of 43 and although he was not a household name, he was able to make an undeniable mark. His sound can be detected within the first few notes of playing. He had jazz veins mixed with his style of blues and funk as his albums "Blues for Lou" (Blue Note 1999 release) and "His Majesty King Funk" (Blue Note 1965) demonstrate.
Green spent his recording career (1961-65) at the premiere jazz label Blue Note, where the alto saxophonist Lou Donaldson introduced him to Alfred Lion (the label's founder).
During the 1960s Green had a regular stand at the then popular, no frills Slug's Saloon, located on the Lower East Side. When not in trio mode, Green sat solo in a wooden chair center stage and wowed the audience with his stylistic virtuosity.
Sept. 18, The Grant Green Story, a documentary on the late jazz guitarist, will premiere in Theatre C of MIST Harlem (46 W. 116th St.), at 4:10 p.m., as part of the 11th annual Harlem International Film Festival. The film features many individuals he met while living and performing in New York, as well as in Detroit and St. Louis, cities that he once called home.
The film was made with the assistance of Grant Green Jr., youngest son of Grant (not to be confused with his brother Greg who plays guitar professionally under their father's name). Sharony Green, who was married to Grant's youngest son, is the film's executive producer. Detroit-area filmmaker Charles Cirgenski assisted Sharony as a co-producer and co-director. Pre-production began in 1994. The film's running time is 59 minutes.