Liberty look to regain momentum in playoffs
Lois Elfman | 9/23/2016, 8:52 a.m.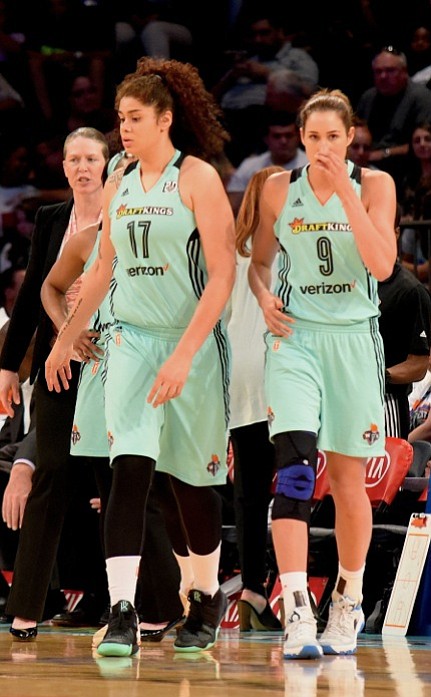 It's been a rough stretch for the New York Liberty since WNBA play resumed after the Olympic break. Despite being just 3-5 since Aug. 26, the Liberty held on to the third best record in the league, thanks to early season success. This outcome means the Liberty has a bye to the second round of the playoffs.
Injuries have been a huge factor, cutting the Liberty roster again and again. First it was Tanisha Wright (knee), Kiah Stokes (hip) and Shoni Schimmel (concussion) to be out of action. Just as Wright returned to the lineup, Epiphanny Price, who is coming back from a torn ACL suffered in offseason play in Russia, couldn't play because of tendonitis. MVP candidate Tina Charles skipped the trip to Chicago to play the Sky Friday to get some much needed rest.
In her absence, Swin Cash and Carolyn Swords each scored 15 points, and Rebecca Allen contributed 13 points in a 68-92 loss to the Sky. Sugar Rodgers, who has had an explosive season and should be a contender for the Most Improved postseason honor, did not play in the game. Given that the result would have little impact, it gave Rodgers an opportunity to conserve her strength.
"We have to get healthy," said coach Bill Laimbeer. "We have some players who are still out. We have to get them back in the lineup. Just get a good, solid week of practice under our belt so we can compete in a playoff game."
The first round of the WNBA's new playoff format debuts this week with two single knockout games. The Seattle Storm take on the Atlanta Dream, and the Phoenix Mercury play the Indiana Fever. Teams will be reseeded after the round, so the Liberty could play any of those teams for its second-round game Saturday night at Madison Square Garden, which will be a winner-takes-all situation. To succeed in postseason, obviously the team needs healthy players ready for action.
"Work really hard, get in the gym, focus on us a lot," said Allen of the Liberty's plans for the week. "Eat, sleep, breathe basketball for the next week."
She added, "We have to go with what works. We have to use our players. Every one of us needs to play to our strengths so we can get the job done."