Make America Great Again—Trump Must Go! #29
EDITORIAL | 8/17/2017, midnight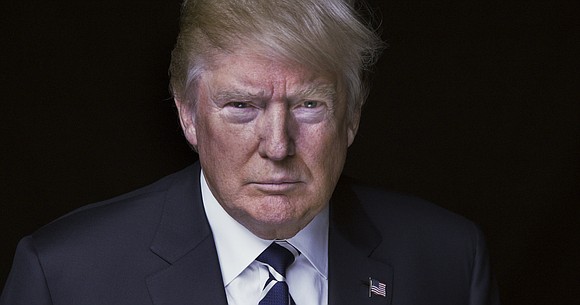 We should not be surprised that President Trump had to be prodded to deliver a stronger message of condemnation in the wake of the melee in Charlottesville, Va. Saturday. And we are still waiting for him to reach out to the family of Heather Heyer, who was killed when James Alex Shields, the neo-Nazi, drove his car into a crowd protesting the mob of white supremacists and domestic terrorists, words the president refuses to say.
Even after being assailed by Democratic leaders and activists, as well as a few Republicans, Trump still found a way to minimize his denunciation by ridiculing Ken Frazier, the CEO of Merck, after he resigned from the president's manufacturing advisory council. Frazier, the only African-American on the council, left the panel, voicing his displeasure about Trump's slow and unfeeling response. He cited a need to take a stand "against intolerance and extremism."
Adding insult to injury, Trump sarcastically tweeted that Frazier "will now have more time to lower rip-off drug prices."
Several other CEOs of major corporations also expressed their outrage at Trump's initial silence and his later response that lacked empathy for the young dead woman or those injured by the car as weapon. Trump's first reaction and impulse were his true ones, and his failure to show any concern for the fallen or to seriously assail the attacks are consistent with his other actions about those opposed to his administration.
To a great degree, we understand and agree with Mayor Signer of Charlottesville that there's a direct line from the confrontation that led to Heyer's death and Fields' motivation to the rhetoric espoused by our president. In fact, he has spewed more bombastic outbursts against Kim Jong-un and the North Koreans than against the Ku Klux Klan or the Nazi-like brigades gathering steam from an unconcerned Oval Office.
We are pleased that a number of elected officials on both sides of the aisle and numerous civic leaders and organizations have joined the multitude of activists who have promised to continue their demonstrations, even boldly condemning the president outside Trump Tower.
Let us conclude with words from the esteemed civil rights leader Jesse Jackson, who has witnessed the evil he addresses: "America has come a long way from the horrors of slavery and segregation. We are a better people and a better country for that struggle. Yet, as Charlottesville revealed once more, hatred and racism still fester. Unprincipled politicians can still play on race and intolerance for their own purposes. Violent hate groups are literally on the march."
Jackson continued, "These must be denounced, even as we celebrate Heather Heyer and the forces of conscience. We must also act. A good response to Charlottesville would be a massive voting coalition to drive out the forces of division and push for a new era of reform. We must act, change the institutionalization of bias, protect and extend the right to vote, and fight to ensure equal justice and opportunity for all."
And that opportunity for all can only come when we take action, audaciously declaring that to Make America Great Again—Trump Must Go!