Lumumba becomes youngest mayor of Jackson, Miss.
By Othor Cain (The Mississippi Link/NNPA Member) | 8/21/2017, 11:26 a.m.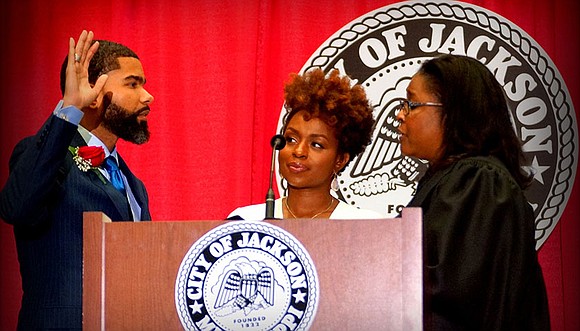 Chokwe Antar Lumumba became the youngest mayor in the history of Jackson, Miss., when he was sworn-in last month in front of a standing room-only crowd at Jackson's Convention Center Complex.
Lumumba, 34, defeated the business-friendly incumbent Mayor Tony Yarber after losing to him in a special election in 2014. The seat was left vacant when Lumumba's father, Chokwe Lumumba, died after serving less than a year in office.
Lumumba called his victory a celebration of the city's unity.
"It's about our collective efforts to move Jackson forward," Lumumba said to a cheering crowd.
A blessing deferred isn't a blessing denied.
Even though he had hoped to fulfill the unexpired term of his father in 2014, Lumumba said he was grateful for losing to Yarber, during his first campaign.
"I'm actually grateful that we lost the election in 2014, not because the sincerity was not there, not because we didn't believe we would have done a good job, but, we've been able to appreciate far more what's going on with the city of Jackson, and I've been able to appreciate more within myself," Lumumba shared during an interview with "Democracy Now!"
Lumumba continued: "People have to remember, in 2014, not only did I bury my father in a two-month time span and then enter into an election, my wife was pregnant with our first child. And so there was a world of change. You had a first-time candidate, who had not run for junior class president, much less mayor of a city. And so, we've been able to, you know, gather more information and position ourselves better."
Lumumba said that everything happens in a perfect timing.
"We're happy where we find ourselves at this time, to move forward the agenda that my father embarked on, an agenda of a people's platform, one that was not only, you know, symbolic of his work in his short term as mayor, but symbolic of a lifetime of work, that he subscribed to and also ultimately dedicated his family toward," said Lumumba.
During Lumumba's swearing-in service, on the same stage where his father stood on and was sworn-in, just four years ago, he became overwhelmed with emotions.
"A son only holds his father's hand for a short while, but he holds his heart forever," he said as he fought back tears. "I can't help, but to be emotional today."
The young mayor also paid homage to his mother.
"My mom's spirit was infectious, she was the first person to tell me that I was brilliant," said Lumumba. "If you had the privilege of knowing her or meeting her, she is someone that you would never forget."
In Chicago, earlier this summer, speaking at the People's Summit, Lumumba shared his thoughts about "the people's platform."
"From the moment we announced, we worked hard and aggressively on an agenda that included social justice, economic democracy and making certain that the people had a voice," he said. "That's our story, and we're sticking to it."
Lumumba said that he plans to implement "people's assemblies," that speak directly to his campaign promise to the community that he serves.