CBC meets with FBI director over 'Black Identity Extremist' report
Stacy M. Brown (NNPA Newswire Contributor) | 12/4/2017, 10:50 a.m.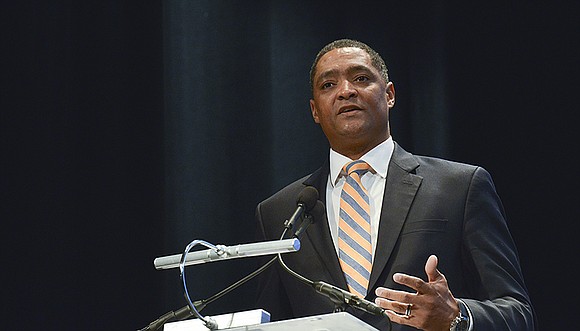 FBI Director Christopher A. Wray failed to explain why the agency he leads changed the name of a domestic terrorism designation from "Black Separatist Extremists" to "Black Identity Extremist," during a recent meeting with a group of Congressional Black Caucus members about a leaked FBI document.
Wray also refused to acknowledge that Black activists, including Black Lives Matter organizers, are being monitored by the FBI, according to CBC members present at the meeting.
The leaked FBI document, titled "Black Identity Extremists Likely Motivated to Target Law Enforcement Officers," sparked a wave of controversy and sharp criticism of the FBI.
At least one CBC member called the leaked document "COINTELPRO 2.0," while another said that the report "calls for open season on Black activists." The document was shared widely with local law enforcement agencies across the country.
According to Newsweek, following the "fatal attacks on police officers in Dallas and Baton Rouge, Louisiana in 2016, the bureau expressed concerns about 'the threat of copycat attacks against law enforcement' at the Republican and Democratic national conventions."
Newsweek reported that other documents showed that "the FBI has monitored Black Lives Matter protesters."
Those documents were released, because of a lawsuit to expose the surveillance filed by the Center for Constitutional Rights and the civil rights group Color of Change.
On Wednesday, November 29, Congressional Black Caucus Chair Cedric Richmond (D-La.) and 2nd Vice Chair Karen Bass (D-Calif.), provided an overview of their meeting with Wray in a teleconference with National Newspaper Publishers Association (NNPA) President Dr. Benjamin F. Chavis; NNPA National Chairman Dorothy Leavell, and a group of Black publishers, editors and reporters.
CBC members who are also members of the House Committee on Homeland Security, the House Permanent Select Committee on Intelligence and the House Committee on the Judiciary were present at the meeting.
"Listening to [Wray], especially considering meetings and discussions we've had with Attorney General [Jeff] Sessions, he appeared to be a breath of fresh air," Bass said.
According to Bass, Wray said the "Black Identity Extremists" report was completed prior to his taking the post, but he acknowledged that he "owns the document" now.
Wray also said that no one would be investigated or targeted, unless they met three points of criteria: there had to be credible evidence of federal crimes; a credible threat of force or violence; and both of those points had to exist in furtherance of a social or political goal.
Bass said the FBI uses that criteria to categorize people as domestic terrorists and, according to the leaked document, "Black Identity Extremists" fall into the category of domestic terrorism.
Wray also admitted that the policy wasn't new, the name simply changed, Bass said.
"They used to call it 'Black Separatist Extremists' and they changed it to 'Black Identity Extremists,'" said Bass. "[Wray] didn't have a lot of rationale for why that change took place, except for the fact that the people that fall under the category 'Black Identity Extremist' don't seem to be separatists in today's world."