An undaunted civil and human rights advocate, Rep. Charles Diggs Jr.
Herb Boyd | 12/7/2017, 5:03 p.m.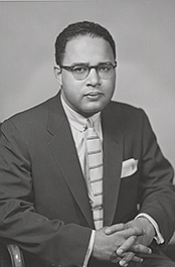 Current news stories surrounding the political turmoil in Zimbabwe and Kenya, the sexual harassment charges against Rep. John Conyers Jr., remembering Rosa Parks' iconic moment almost 62 years ago to the day and the ongoing recollection of the tragic death of Emmett Till bring to mind memories of Congressman Charles Diggs Jr. (D-Mich.), who had ties with each of these individuals or events.
When it came to African affairs, no member of Congress was as passionately committed to the so-called Dark Continent as Diggs. Among his significant contributions during his long tenure in the House of Representatives was chairing the House Subcommittee on Africa. In this capacity he was instrumental in the fight against South Africa's apartheid regime, demanding the U.S. end its economic support of the racist government.
Diggs' advocacy for African affairs mirrored his determined resolve to combat racial discrimination in America. In 1955, after the young Till had been brutally killed in Mississippi and two white men tried for the crime, Diggs stood out among elected officials and civic leaders who monitored the trials and provided comfort to the bereaved family.
Providing comfort to families having suffered a loss had long been part of the Diggs legacy. Born in Detroit's "Black Bottom" Dec. 2, 1922, Diggs' father was a prominent mortician and real estate developer as well as a pioneering African-American member of the Michigan State Senate. In effect, Diggs' professional career and path were prepared for him long before his birth and he not only followed in his father's footsteps but also left an even larger imprint.
Diggs inherited his father's gift of gab and debating skills, which were evident at Miller High School and later in his college years at the University of Michigan and at Fisk University in Nashville. After the U.S. entered World War II, Diggs was drafted into Army Air Corps and was stationed at the Tuskegee Army Airfield. Upon leaving the military without seeing any combat, he returned to Detroit and earned his undergraduate degree from Wayne State University in 1946.
Four years later he embarked on his political journey as a Michigan state senator. In 1954, he was elected Michigan's first African-American congressman, representing Detroit's 13th Congressional District, a position he would hold for more than 25 years. From this political platform he was consistently involved in the civil and human rights struggle, and beyond braving possible danger in Mississippi during the Till trials, he was a frontline participant with Dr. King as well as an advocate for the Black Liberation Movement.
During an interview with "Eyes on the Prize," the documentary on the Civil Rights Movement, Diggs recounted his experience in Mound Bayou, Miss., a town not too far from Money and Sumner, where he attended the trials, and the impact of a speech he gave there: "…The Mound Bayou rally had a great impact on me because my father was there, probably the first time he'd been in Mississippi since he was a child and he was up on the stage with me and that audience at Mound Bayou was 5,000 people under the tent and there was another five- or 10- thousand people outside of the tent that was listening to the program over the loud speakers. And given the state of matters in Mississippi at that time and the kind of security problems that I had had already, in Mound Bayou it, it had a tremendous impact."