The ANC's battle for South Africa's presidency heats up
Stacy M. Brown (NNPA Newswire Contributor) | 12/11/2017, 3:41 p.m.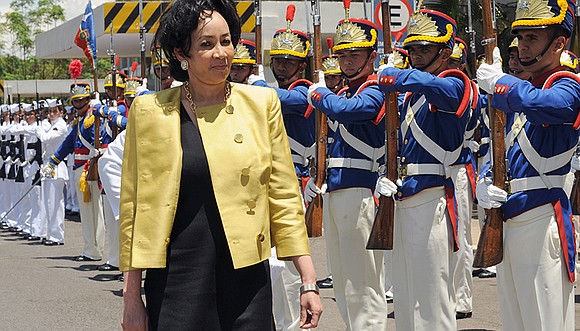 The African National Congress (ANC), South Africa's governing social democratic political party once led by the late Nelson Mandela, faces perhaps its most contentious and controversial election yet.
On Dec. 18, the party will vote for its next president, a contest that puts former health minister Nkosazana Clarice Dlamini-Zuma against Deputy Prime Minister Cyril Ramaphosa and three others including Lindiwe Sisulu, the nation's minister of Defense and Military Veterans.
"South Africa is governed by the Tripartate Alliance of the ANC, South African Communist Party and Congress of South African Trade Unions and this ANC alliance has fractured into multiple competing groups each headed by a sort of warlord," said Eric Louw, an associate professor at the University of Queensland in Australia. "Each warlord runs a patronage network which dispenses wealth and jobs within a government system that has become highly corrupt."
Louw has worked at several South African universities; his research includes the role of Pax Americana on South African transformation.
The ANC is wrestling with serious fractures in the party and has been for at least a decade, said Nicholas Rush Smith, an assistant professor of Political Science at the Colin Powell School for Civic and Global Leadership at The City College of New York.
Smith's main research focuses particularly on South Africa and he's working on a book titled, "Resisting Rights: Vigilantism and the Contradictions of Democratic State Formation in Post-Apartheid South Africa.
"The ANC will choose a party president in December who will likely stand for South Africa's presidency in national elections in 2019," said Smith. "The two leading candidates for the ANC presidency represent factions of the party that are either support or oppose current President Jacob Zuma."
Nkosazana Dlamini-Zuma, the former chairperson of the African Union Commission and Zuma's ex-wife, is viewed as supportive of Zuma, while Ramaphosa, the current Deputy President, represents a faction opposed to Zuma.
"Regardless of who wins, the factionalism within the ANC will likely continue to deepen, particularly if the party continues to lose vote-share at the 2019 election to opposition parties," Smith said.
Meanwhile, Dr. Benjamin F. Chavis Jr., the president and CEO of the NNPA, said South Africa needs leaders who will care about the people they'll lead.
"I endorse, support and salute the effective leadership of H.E. Lindiwe Sisulu to be president of South Africa," Chavis said.
Regardless of who becomes South Africa's next president, the candidate faces serious challenges, Smith said.
"Unemployment is rife and inequality is deepening. The next president will face major questions about how to alleviate these problems; problems that have bedeviled every post-apartheid president, suggesting that there are no easy answers," he said.
An early September poll showed Sisulu emerging as the leading female candidate to lead the ANC and the country.
South Africa's Times Live has Sisulu with a 29-percentage point lead over her closest rival' Dlamini-Zuma.
Dlamini-Zuma's support dropped from 28 percent on July 12 to 23 percent by August 11 while Sisulu' whose support had already seen significant gains' saw her lead stretch from 45 percent to 52 percent in the same period.