Colgate Women's Games conclude after weeks of preliminaries
Vincent Davis | 2/23/2017, 12:06 p.m.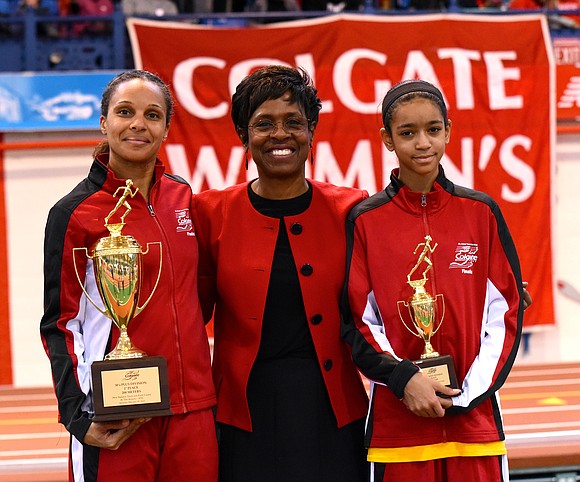 There's a beauty to track and field that's not experienced in other sports. Their loyalty and dedication is simply to running, to their team and, without malice, to their sneaker company. Of course, politics seems to play a part in all we do, but once the race begins, that gun sounds, runners run. Their success is determined by speed—their speed, their times, the records that an athlete is able to set.
The finals of the 43rd annual Colgate Women's Games, the nation's largest amateur track series open to girls from elementary school through college, in addition to advanced ages, were held Saturday at the Armory Track and Field Center located on the Upper West Side of Manhattan.
Competitors have participated in preliminary meets and semi-finals since December to determine the finalists for Saturday's games. Participants competed for trophies and educational grants-in-aid from the Colgate-Palmolive Company.
"The games help young girls and women develop and maintain a strong sense of personal achievement, self-esteem," stated the games director, Cheryl Toussaint. "We provide a training ground for those who might not otherwise participate in an organized sport." Toussaint also noted their emphasis on the importance of education and that participation is free.
There are many interesting stories, from Lauren Princz, 14 years old from Fernwood Avenue Middle School, Egg Harbor Township, N.J., who won her first professional meet, 55 meters, and one of Colgate's most prestigious awards, Most Promising Newcomer, to Lisa Edwards from the Bronx, who's been competing for 33 years, finishing first in the 200 meters. And then there's Rowan Houston, age 12, from Rye Country Day School, Rye, N.Y., who enjoys high jumping, the competition and all of the friends that she's met there. She admits to practicing just a little bit, having to balance her time between track and basketball.
"My dad started putting me on the track when I was younger," said Princz, who's been running professionally for four years. "I would run miles. I thought that I would be good when I became a teenager, but in the beginning, I wasn't. Then I started winning awards."
Edwards, a Manhattan College graduate who works for the Board of Education, just returned from competing in Australia. She's participated in Colgate for more than 25 years. She works out two to three hours daily.
"It's hard work," she stated, but she is inspired by watching the younger athletes participate. "Looking at their times pushes me," she said.
Edwards also runs to stay in shape and to have fun. "Running is a great exercise for women," she said. "It allows me to eat what I want, and not put on weight, because I'm always working out, though my metabolism has slowed down as I've gotten older."
Colgate host events in the 400 meters, 800 meters, 1500 meters, high jump, shot put, 55 meters and 55 meter hurdles. All of the winners from each event can be found at www.colgategames.com.