Dr. Robert Walter Johnson, the 'godfather' of Black tennis
Herb Boyd | 7/6/2017, 11:17 a.m.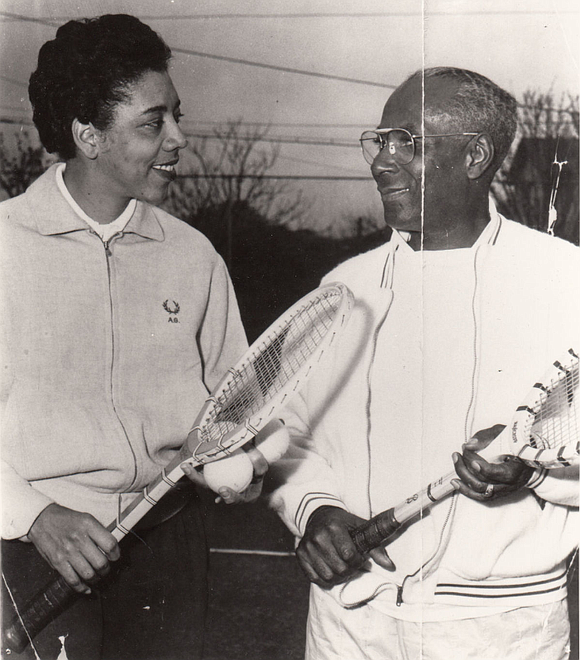 As Wimbledon gets underway in London, tennis will be a dominate discussion for several weeks. The world may have its eyes on the tournament, but it reminds us in the states of Dr. Robert Walter Johnson, the putative godfather of Black tennis.
The "godfather" appellation is derived mainly from his tutoring of Althea Gibson and Arthur Ashe. But there were many others, and the esteemed doctor also acquired acclaim as the first African-American physician to receive an obstetrical license to practice at the Lynchburg General Hospital in Virginia.
Born April 16, 1899, in Norfolk, Va., Johnson attended Lincoln University in Pennsylvania, where on the gridiron his nickname "Whirlwind" earned him All-American status at historically Black colleges and universities. He graduated in 1924. For four seasons, he was a football coach in Virginia and Texas before entering Meharry Medical College in Nashville.
Johnson began practicing medicine in Lynchburg, including his breakthrough at the city's general hospital.
When he wasn't busy attending to patients, Johnson devoted time to his avocation of tennis, turning his backyard into a training camp, a testing ground for aspiring tennis novices. This training for the students was at his own expense, as was the paying of several instructors. It was through this activity that he began tutoring Gibson and later Ashe, both becoming Grand Slam champions.
For a score of summers, Johnson opened his home on Pierce Street to hundreds of tennis aspirants, making sure they had the proper attire, equipment and nutrition.
Among Johnson's students were his grandchildren, and one of them, Lange Johnson, fondly remembers the rigor of the summer program of drills on the fundamentals and how to comport yourself on and off the court.
"Monday through Thursday, dawn to dusk, we were on the court," Johnson told a reporter. "Fridays, he would load some of us into his car and the rest of us into other cars, and we would drive from Lynchburg to the tournaments. We always had our marching orders: conduct yourself in a way that would not dishonor the group and what he was trying to accomplish. From how we dressed to the way we called balls that were 2 inches out—give them to your opponent, he said, to make sure there was no sense of impropriety."
That sense of propriety emanated from a man who was blessed with an ample supply, along a huge dose of humility.
In 1972, a year after his death, he was inducted into the Virginia Sports Hall of Fame. He was nominated as a contributor in 2007 for the International Tennis Hall of Fame and two years later inducted with the class of 2009.
Further honors ensued when his home (built in 1911) and training center was listed on the National Register of Historic Places in 2002. A plaque outside the facility reads, "The desegregation of tennis was due in large part to the efforts of Dr. R. Walter 'Whirlwind' Johnson. The first African-American to earn staff privileges at Lynchburg General Hospital, he also worked to overcome barriers keeping young African-Americans out of tennis. As founder of the Junior Development Program of the American Tennis Association, Johnson sponsored African-American players from across the country in tournaments and coached and mentored them on a court here at his home. Among those he trained were Wimbledon Champions Althea Gibson and Arthur Ashe. Johnson was posthumously inducted into the International Tennis Hall of Fame in 2009."