Milestone Films restores two tap dance classics in time for NYC's Tap Week
NADINE MATTHEWS | 7/20/2017, 2:08 p.m.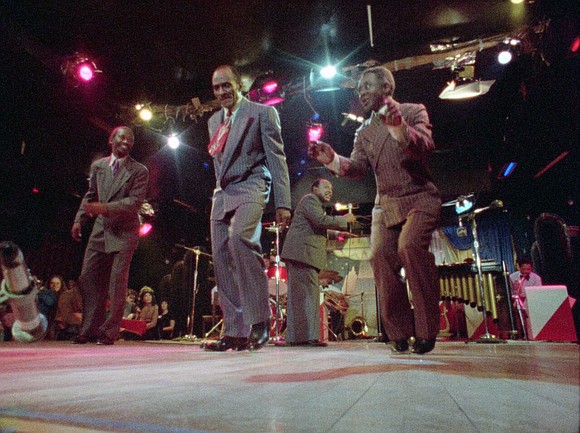 If filmmaker George Nierenberg had it his way, legendary disco club Studio 54 would have featured tap-dancing feet instead of gyrating hips. He remembers sharing an office with the men who started Studio 54. "They were working out of the office I was in," he recalled, "and I mentioned to them that they should have Black tap dancers. Kind of naive, I guess. Well that was not their concept for Studio 54, but that's what I was thinking." He laughed at the memory of his younger self. Nierenberg, who grew up on Long Island, N.Y., in the middle of the 20th century, has come a long way. The only thing he knew about tap dance growing up was that his mother had done it when she was a little girl and at some point had performed at Sing Sing. The whole concept didn't make much of an impression on him. That all changed in the early 1970s when a friend took him to the East Village for a music performance. He recalled, "My first live interaction with tap dancing was seeing Sandman Sims performing down in the East Village with Eddie Jefferson, the scat singer, and that was back in the mid '70s. I thought it was amazing, terrific, just great. I thought it was fabulous. You didn't normally see that kind of thing, and you weren't seeing that kind of thing very much at all. It wasn't common for a band to be taking
Black jazz tap dancers."
In the latter 20th century, many television viewers became familiar with Howard "Sandman" Sims from the variety program "Showtime at the Apollo." after a less than impressive performance by an Amateur Night contestant, Sims would tap dance onstage with his ubiquitous cane or broom or whatnot and drag off the failed would-be star amid the boos and mocking laughter of the audience. Originally from sunny, sandy Los Angeles, Sims had been a great tap dancer in the heyday of the art form and was a fixture himself at the Apollo Amateur Night at one point. He won amateur night a whopping 15 times, causing the rules to change making four the maximum number of times someone could win. Sims is one of the featured subjects in Nierenberg's film, "No Maps on My Taps." That film, along with Nierenberg's other critically acclaimed film called "About Tap," will be shown at the Quad Cinema July 7-13, coinciding with the annual Tap City: New York City Tap Festival. Both films were shot in Harlem during the '70s and both boast the outsize talents of the giants of tap dancing as well as spare, intimate moments when the camera watches the men at their most vulnerable.
"No Maps on My Taps" features other greats of the classic tap dance era: Chuck Green, Bunny Briggs and John Bubbles. The music of jazz legend Lionel Hampton serves as the backdrop to one of the best aspects of the film, an intercutting dance battle between the greats at one of Harlem's most iconic venues of the jazz age, Small's Paradise. The movie reveals that Briggs just missed his chance as a child to become the apprentice of the great Bill "Bojangles" Robinson, who is probably most popularly known for his roles in Shirley Temple movies. Robinson spotted Briggs' talent early on and wanted him to come on tour with him. Briggs' mother, at the advice of a family member, concluded that he was simply too young to tour with a group of adults. The film makes it plain that it is something Briggs regretted for the rest of his life. Green, perhaps the most eccentric of the group, also started dancing as a child. He was the protégé of the great tap dancer John Bubbles. There is extensive footage of downright dazzling, hypnotizing, mesmerizing footwork of Bubbles. Green in turn mentored Sims, who calls Green "his hero." Indeed, the title of the film is taken from one of Green's sometimes enigmatic utterances. No maps on my taps alludes to the ability of the dancer to dance anywhere. Green ended up institutionalized for some time, and those who went to visit him usually came back and reported that he was still dancing. Part of what makes the film interesting is the subtle way in which it unveils some of the foundational culture surrounding tap dance, the early training and legacy of one dancer taking another under his wing and bringing him up until he comes into his own. In fact, the central conceit of the film, the dance challenge at Small's, is exemplar of the friendly competition that is part of the fabric of tap dance culture.