Brooklyn armory project: More housing for the rich?
SAEED SHABAZZ | 6/1/2017, 3:57 p.m.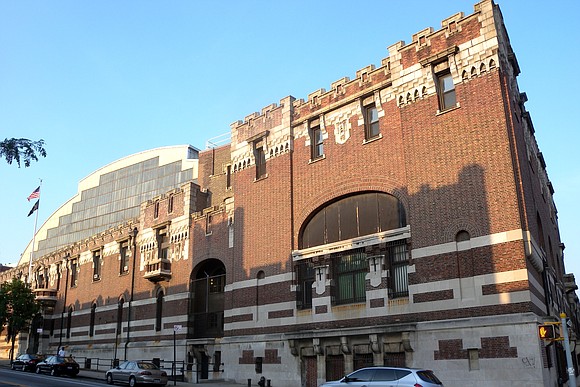 By SAEED SHABAZZ
Special to the AmNews
A plethora of elected officials gathered May 18 on the steps of Brooklyn's Borough Hall to publicly note their opposition to Mayor Bill de Blasio's proposal to build luxury condominiums on the site of the Brooklyn-Union Armory. Leading the charge was Council Member Laurie A. Cumbo, representing District 35, which covers Fort Greene, Clinton Hill, Crown Heights and Bedford-Stuyvesant.
"Since the very beginning our message has been clear: We will not allow public land to be used for the purpose of luxury condominiums. I stand here today with my colleagues in government to demand Mayor de Blasio go back to the drawing board and produce a plan that meets the needs of my Brooklyn neighbors," stated Cumbo.
Some observers called attention to the fact that the show of support for Cumbo's opposition came a few days ahead of the May 22 Uniformed Land Use Review Procedure by the Department of City Planning, which went off without a hitch.
Activists say that Cumbo's opposition did not clearly demand an end to the mayor's proposal. In an earlier position the Council Member stated, "Let's just continue to negotiate, see what the final outcome is."
The 138,000-foot complex, a former weapons depot, is being developed by BFC Partners, a politically connected real estate developer founded in 1985 boasting more than $1 billion in development assets. According to Prospect Heights Patch, half of the 330 units would be at market-rate prices, meaning 83 percent of the units would only be affordable to families earning $90,000 a year, while 66 units would be available to a family of four, earning $63,500 a year. The median income in Crown Heights, according to a NYU Furman Center report, is $41,867 to $44,961 for a family of three.
According to the U.S. Census Bureau, the unemployment rate is 14.7 percent and the poverty rate is 28.2 percent for Crown Heights/Prospect Heights. BFC is planning to develop 58 condominiums at $1 million each on the site.
In 2013, Cumbo told the Brooklyn Paper she would be more developer friendly than her predecessor (Public Advocate Letitia James). "It would be almost malpractice to be a Council Member and to have no relationship with the developers who are building the community," she stated.
In April, protestors marched from Fort Greene Park to Cumbo's office on Hanson Place demanding that she vote to "kill" the deal, according to Prospects Heights Patch. They also rallied outside of Gracie Mansion and again during a hearing on another issue in City Hall April 29. The protests continued May 18 during her state of the district address. "She's not killing the deal," argued protestors, according to the website kingscountypolitics.com.
"At the top of the list for me is housing," explained Brooklyn Borough President Eric Adams during a telephone interview. "The proposed redevelopment is not sufficient to meet the needs of Crown Heights, namely the dearth of affordable housing for residents at risk of losing the community they love," Adams said at the May 18 news conference.