Anti-violence groups working toward 'Summer of Peace'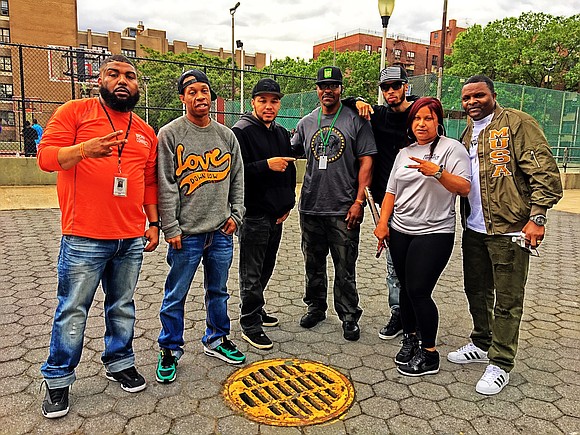 June is Gun Awareness Month, highlighting the sharp increase in firearm fatalities and survivors. More than a dozen New York City-based "stop the violence" groups and trained violence interrupters are working toward what they are touting as a "Summer of Peace."
"With the Summer of Peace, our goal is to host many outside events where our community can enjoy themselves safely," said veteran Cure the Violence advocate A.T. Mitchell. "We want to accentuate the positive, because the mainstream media only usually shows the negative. The Summer of Peace began June 1, 2017, on the first day of the Gun Violence Awareness Month. It is an extension of that effort to last beyond the month of June 'til the end of summer; and even then our work continues until the beginning of school and beyond."
"On any given day, approximately 88 Americans are killed by gun violence" stated Gun Violence Awareness Month proponent Tamika Mallory. "June marks the beginning of summer and as things heat up, gun violence typically escalates, impacting New Yorkers throughout the state of all ages, races and genders. Common sense gun laws dramatically reduce deaths from gun violence. Yet even in states like New York, which has the third lowest gun death rate in the country, the number far exceeds other industrialized nations in the world."
It is perhaps typical of the times that a year without a shooting death in a part of Brooklyn depicted as a hot zone is celebrated with a gusto usually reserved for cultural celebrations. Saturday, May 27, 2017, East New Yorkers took over The Big Park, aka Alabama Park, to do just that.
"We want to increase the peace and have a 2017 Summer of Peace," said Mitchell, Man Up Inc., USA founder and executive director. "That title is exactly what it sounds like. This Saturday out in East New York, we celebrated over 365 days in one of the catchment areas—where no one was killed by gun violence. We attribute this to our collective work and responsibility of—indeed—Ujima. We strive to apply the principles of the Nguzo Saba of Kwanzaa on a daily basis, not just at the end of the year. We want to reduce violence and gun related crime year round."
Nationwide activist Mallory said in a statement, "On Friday, June 2, New Yorkers will observe Gun Violence Awareness Day, and the start of Gun Violence Awareness Month. A news conference will be held by GVAM co-chairs Council Member Jumaane D. Williams and Tamika Mallory, along with GVAM coalition members.
"Gun Violence Awareness Month was created in an effort to raise awareness surrounding the issue of needless and senseless gun violence in New York's communities. By furthering the dialogue with local, state and federal partners, advocates are able to examine the causes of gun violence and create meaningful solutions in an effort to prevent violence. On June 2, Mayor Bill de Blasio will light City Hall orange in honor of the day."
As well as violence interruption, mediation and mentorship, Mitchell said that this Summer of Peace will represent community-friendly events such as outdoor movies, barbeques, street festivals, basketball games and tournaments. "We are going to make sure that every event is peaceful, because we have men and women on the ground who are trained to mediate conflicts and recognize incidents before they escalate," stated Mitchell. "The goal is to have a summer full of peaceful events and activities to offset the negativity of summer violence with positive activities throughout the city. We have been doing this work for a very long time, but summer is the busiest time of year for us working in Crisis Management Systems such as Man Up Inc., SOS Bed-Stuy, Rock Safe Streets in Far Rockaway, Fathers Alive in the Hood, Bronx Connect, Release the Grip, Staten Island's True 2 Life, Erica Ford's Life Camp Inc., SAVE East Harlem and Harlem's Street Corner Resources. These are organizations trained in the Cure Violence model that is part of the Crisis Management System in New York."