BAAD! brings out the good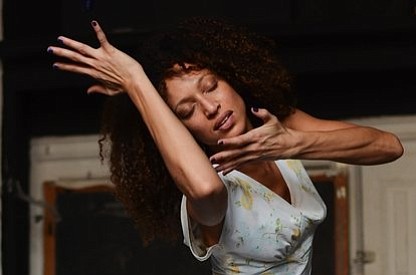 It seems that any visit to Bronx Academy of Arts and Dance is a not-to-be-forgotten experience. As part of BAAD!'s month-long series "Boogie Down Dance," Jennifer Harrison Newman and installation artist Abigail DeVille reimagined BAAD! to present "The Geneva Project," which took place April 28 and 29. The work is named after Geneva Varner Clark, Newman's great-aunt, and is inspired by photographs of Clark and her family on their Depression-era South Carolina farm that Newman found in the Library of Congress. The photographs, taken by Depression-era photographer Marion Post Wolcott, were described as "negro," "mixed race" and "Indian." In line with the historical nature of this work, it's interesting to note, or be reminded that BAAD! is housed in the gothic revivalist building on the grounds of St. Peter's Episcopal Church. So, in true form, the audience entered through the graveyard for this performance. We were guided into the lower-lobby and office area, treated to a glass of wine, or popcorn and sweets, before being invited to go upstairs. Part of the BAAD! experience hinges on the warm welcome from Arthur Aviles (artistic director) and Charles Rice-Gonzales (executive director), always there to boast and remind visitors about the pride of the Bronx, and of course what to expect in the show. Newman's "The Geneva Project," directed by Charlotte Brathwaite, was given their full attention.
When time came for the show to begin, pillows were offered because there are no seats upstairs, plus there is fair warning that everyone will be fully immersed in the event. Once upstairs, we entered a fog-filled room with branches hanging from the ceiling and walls, paper strewn all over and stockings, old bottles, aluminum plates, a suitcase, a shopping cart, a fan, a tea set and more accoutrement wedged in tangled branches or similar structure to hold things in place. It was a full house, so we politely navigated through the sea of bodies, props and the fog to see what was going on. Sounds from the elevated subway line outside wafted inside and helped to frame the rawness of Newman's mysterious world. In a far corner, we heard humming and curiously inaudible words. At first we couldn't see her face, and then finally we see Newman crouched under a cave of branches and surrounded by papers and letters. Few others shared the space—there was the composer, Justin Hick, and 9-year-old Logan Urrutia, who sometimes rushed through the fully peopled space, plus projection designer Paul Lieber, who, like DeVille and lighting designer Tuce Yasak, was responsible for the changing atmosphere. In a loose-fitting dress, barefoot, with twigs in her hair, Newman sifted through papers, banged on pots, maneuvered through bodies whispering or making deep-throat sounds, and the audience grew more and more immersed in her conjuring up the past. The past soon rushed to the present and the mood shifted, when in shorts and T-shirt, she danced a dream-like duet around the bottle tree placed at center. In her dance, she pulled the cork from each, and one at a time honey poured, slowly at first, and then in a sluggish rush. The soundscape swelled as Newman bathed in honey, and then returned to reading papers/letters stuck on her honeyed body, just as she began, still deep in sifting through the tangled landscape.