Mistrial declared in Bill Cosby's criminal trial as jury deadlocks
Eric Levenson and Lawrence Crook III, CNN | 6/17/2017, 11:23 a.m.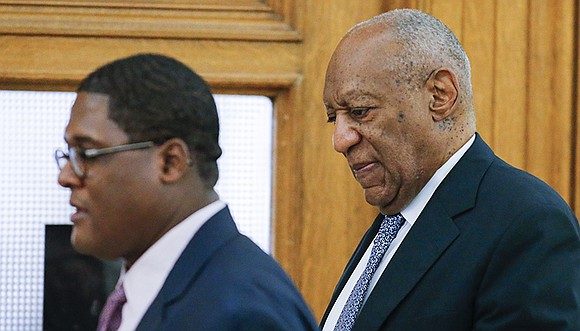 NORRISTOWN, Pennsylvania (CNN) -- The judge in the Bill Cosby trial declared a mistrial Saturday after the jury failed to reach a verdict in the case. The jurors -- five women and seven men -- were unable to come to a unanimous decision in a courtroom battle closely watched by the public as well as dozens of women who have accused Cosby of similar misconduct in the past. Cosby faced three charges of aggravated indecent assault.
Here are the latest developments following the mistrial:
• Prosecutors announced they will retry the case.
• A spokeswoman for the comedian read a statement from his wife, Camille Cosby, who criticized prosecutors, the judge and the media.
• Attorney Gloria Allred, who represents many of Cosby's accusers, said she hopes the court will allow other "prior bad act witnesses" to testify at the next trial. "If the court allows more accusers to testify ... it might make a difference. In other words, it's too early to celebrate Mr. Cosby."
After 52 hours of deliberation, jurors in Bill Cosby's trial began their six day of deliberations Saturday morning.
"We've been at this now for 10 days (including testimony). There has been nothing but a supreme effort on your part," Judge Steven O'Neill told the jury on Friday.
"Go through your routines, which have probably become very habitualized at this point."
As the 79-year-old comedian exited the courthouse Friday, he talked to the cameras and crowds outside. "I just want to wish all of the fathers a Happy Father's Day and I want to thank all of the jury for their long days, their honest work individually," Cosby said.
He said, "I also want to thank the supporters who've been here and please to the supporters, stay calm, do not argue with people, just keep up the great support. Thank you all. Thank you."
More questions
In all, jurors have asked 12 questions of the court during deliberations, essentially asking to hear the evidence for a second time. The jury's continued questions leave open the possibility that jurors may remain deadlocked and unable to reach a unanimous verdict on any of the three counts of aggravated indecent assault that Cosby faces.
One of the questions from Friday was: "What is reasonable doubt?"
Prosecutors say Cosby drugged and sexually assaulted Andrea Constand, the former director of operations for Temple University's women's basketball team, at his home near Philadelphia in January 2004. Cosby pleaded not guilty to the charges.
On Thursday, jurors told the court they could not come to a unanimous decision beyond a reasonable doubt, which is required in criminal cases.
O'Neill asked the jury to go back into deliberations for another attempt to reach a verdict, an instruction known in Pennsylvania as the Spencer Charge. It's a set of instructions that asks jurors to re-examine their own views and opinions, and there is no limit to how many times a judge can issue it.
If, after further deliberations, jurors still cannot reach consensus, the judge can choose to declare a mistrial. Defense attorneys have repeatedly asked for O'Neill to declare a mistrial based on the jury's length of deliberations, but the judge has denied their request.