Get out this week and see 'Get Out!'
T.A. Moreland | 3/2/2017, 11:48 a.m.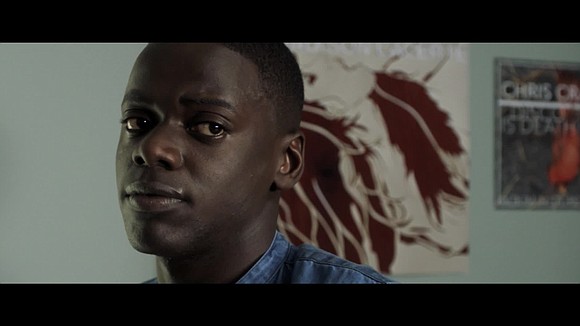 They're an attractive young couple, Chris (Daniel Kaluuya) and Rose (Allison Williams). She, who is white, assures him as they plan a visit to meet her parents that they won't care that he's Black. She adds that her father would have voted for Obama for a third term. When they arrive at Rose's parents' stately home in its picturesque, bucolic setting, her father, Dean (Bradley Whitford) and her mother, Missy (Catherine Keener), greet Chris and extend their best efforts to make him feel comfortable. Chris also hears it straight from Dean: He would have voted for Obama for a third term. But after his first night there, Chris begins to realize that there are some occurrences that go way beyond the expected awkwardness of his being in Rose's family home.
As I left the theater after seeing "Get Out," I found myself thinking of the title of the New Zealand group OMC's hit song, "How Bizarre." Although the film's genre is horror, and it contains all the elements of that genre, there is so much more to this story. What makes this film exceptional is how it takes a common format and intertwines it with issues of race to create a truly unique film-going experience. And that makes it a See It!
Written and directed by comedian Jordan Peele, the film takes viewers on an entertaining journey, giving them clues to the underlying mystery and then fitting all of the pieces together in some expected and unexpected ways. Additionally, the cinematography effectively enriches many of the scenes and is key to telling this fascinating story.
"Get Out" has some familiar horror film flaws. Chris, like many protagonists in this type of film, is sometimes a little slow to figure things out.
There are other defects as well. Chris shares his growing-up experience, which is key to some of his reactions. He never knew his father and lost his mother to a hit-and-run accident when he was11. And at one point he tells Rose, she is all he has. The problem with that scenario is 11-year-olds don't raise themselves. Further, he's a fairly polished young man and an accomplished photographer, indicating that at least one if not more adults invested time and money in his development. It's unlikely that those "investors" would have disappeared from Chris' life now that he is an adult, resulting in Rose being all he has.
As I discussed in my review of "Fences," there is the troubling, ubiquitous portrayal of Black families as dysfunctional, a theme often perpetuated by Black writers. Peele creates Chris' story as one with an absentee father, even though Peele's own father was in his life.
As to cast diversity, "Get Out" gets an A-. When it comes to Black and white characters, you won't find a more diverse film. However, there are only one Asian-American and one Hispanic-American, each with a small speaking role.
"Get Out" is rated R for violence, bloody images, language and sexual references and is 104 minutes in length. This production is a unique film you'll think about and talk about. And it's a See It!