Mayor touts decrease in summonses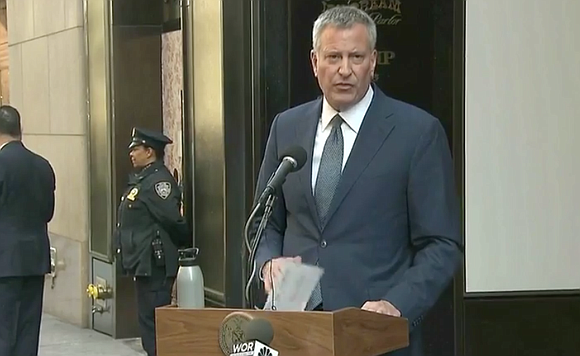 New York City Mayor Bill de Blasio and Council Speaker Melissa Mark-Viverito announced a 90 percent drop in criminal court summonses as a result of the Criminal Justice Reform Act.
The CJRA went into effect on June 13, 2017. Between that time and Oct.1 (16 weeks), there were 4,370 criminal court summonses. During the same period in 2016, there were 55,224 involving the type of offenses covered by CJRA. The law addressed punishment for low-level offenses such as public urination, littering, excessive noise, public alcohol consumption and breaking park rules with civil summonses instead of criminal.
Both the mayor and the Council speaker praised the passing of the CJRA for this drop.
"Nobody's destiny should hinge on a minor nonviolent offense," said de Blasio, in a statement. "This summer's results of record-low crime, paired with record-low summonses, show that we can smartly enforce key low-level offenses without sacrificing New Yorkers' quality of life or safety."
"This historic decrease in criminal summonses is proof that meaningful criminal justice reform is possible without any cost to public safety or order," added Mark-Viverito in a statement.
But one person thinks the celebration of these numbers is a smoke screen. New York State Assemblyman Charles Barron feel the de Blasio administration isn't addressing the real issue.
"I think they always tout statistics during election time to make them look good," Barron told the AmNews. "The problem is police crime and community crime is too high because they haven't addressed the real issue. Poverty is what produces criminality, not an increased police presence or a lenience of laws."
Barron continued, "Let's deal with the real issue, mayor and speaker. Where is the multibillion dollar anti-poverty program to reduce poverty and unemployment and get people out of the homeless shelters? This is all political posturing before a general election. I'm tired of it. Deal with the real issues."
Before the passage of the CJRA, in 2016, most of the 267,000 criminal summonses were issued for minor offenses. Thirty-nine percent of litigants failed to show up for their court appearance, which led to the issuance of thousands of warrants for their arrests.
The City Council first proposed the CJRA last year to create an option for police officers to issue civil tickets for low-level offenses such as littering and bypass the criminal system completely to avoid having to issue failure-to-appear warrants.
"Accordingly, arrests and criminal court summonses are also down, and the statistics from today's announcement show that NYPD officers are exercising their discretion to issue civil summonses to address quality of life offenses like littering, public urination and unreasonable noise." said NYPD Commissioner James P. O'Neill in a statement.
Officers will still be able to issue a criminal summons if the person is on parole or probation, has three unanswered summons in the previous eight years or has two or more felony arrests in the previous two years.