City Council honors legendary runner Dr. Norbert Sander
JAIME C. HARRIS | 11/23/2017, midnight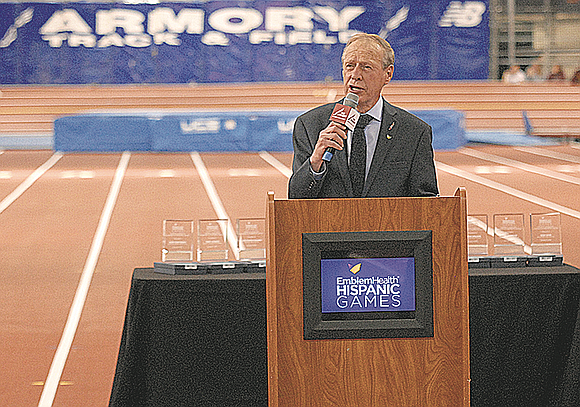 Dr. Norbert Sander, a legendary distance runner and one of the most prominent figures in the long, storied history of New York City track and field was honored posthumously last Saturday by the New York City Council with the street co-naming of Dr. Norbert Sander Way at West 168th Street and Fort Washington Avenue in the Washington Heights section of Manhattan. Sander died of a heart attack last March 17 at his home in Westchester County, N.Y. He was 74 years old.
Born in Yonkers, Sander was a graduate of the Bronx's Fordham Prep, Fordham University and the Albert Einstein College of Medicine. An accomplished distance runner, he was the winner of the 1974 New York City Marathon when the course was confined to Central Park.
Yet perhaps Dr. Sanders' greatest achievement was being the visionary and driving force behind transforming The Armory in Washington Heights into arguably the foremost indoor track and field facility in the United States.
The building was in disrepair in the late 1980s and early '90s before Sander led a campaign that raised more than $25 million to renovate the structure, which housed more than 1,000 homeless men. He served as the president, CEO and founder of The Armory Foundation, an institution that provides pathways to academic and athletic success for numerous New York City youth through its various initiatives.
"Dr. Sander took a building that had fallen on hard times and turned it into a center of excellence," said The Armory Foundation Co-President Rita Finkel at the ceremony hosted by Councilman Ydanis Rodriguez, who represents the 10th District of the New York City Council.   
"It's fitting today we join together to name this street Dr. Sander Way," Finkel added, "because Dr. Sander had a way. It was a bold and expansive way." 
"We continue to miss Norb terribly and I think we always will," The Armory Foundation Co-President Jonathan Schindel remarked. "Yet today is a special day when we can join together and celebrate the miracles he created here in Washington Heights."