NYC commemorates Jimi Hendrix's 75th birthday
AUTODIDACT 17 | 11/30/2017, 2:47 p.m.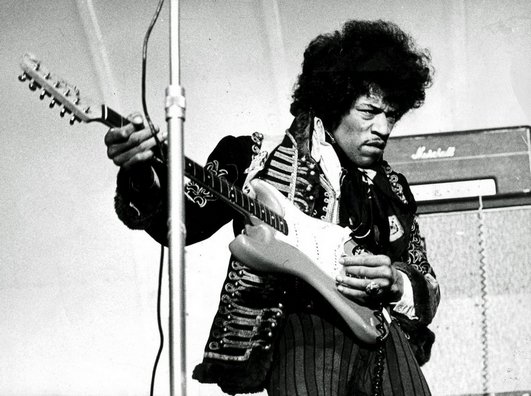 Still regarded as the greatest guitarist who ever lived, rock and roll legend Jimi Hendrix was commemorated by local aficionados Monday, on the 75th anniversary of his birth, at the very same venue where he regularly rocked audiences with his electric guitar five decades ago. Cafe Wha? (115 MacDougal St.) hosted Kiss the Sky—The Jimi Hendrix Re-Experience 75th Birthday Anniversary Celebration, with several of Hendrix's original band members performing classic material.
Although he was born in Seattle Nov. 27, 1942, he migrated to New York in 1964 after a short stint in the military and called Harlem home before setting up his Electric Lady Studios at 52 W. Eighth St., and residing there as well.
"Jimi lived with Fayne Pridgon uptown on Amsterdam Avenue," recalled TaharQa Aleem, who along with his identical twin brother, Tunde Ra Aleem, comprised The Ghetto Fighters, Hendrix's bandmates. "We built our comradery through music. He knew the tones of Harlem."
The Ghetto Fighters and an undiscovered Hendrix initially met by being affiliated through Rojack Payster Records owner and Harlem entrepreneur Jack Taylor. They took him to local places, where he could showcase his talents, such as Small's Paradise.
"Long before Jimi had a record deal, he had jam sessions with his guitar in the streets, sharpening his skills and socializing," Aleem said. "Playing in a lot of the obscure spots is how he got known. By word-of-mouth is how he got with the Isley Brothers."
The Black Power Movement was in full bloom, with Minister Malcolm X having a base at the Nation of Islam's Mosque #7 at 102 W. 116th St. for a decade.
"He was a very progressive person and knew most of the progressive people in Harlem then because he was influenced by the consciousness in Harlem, caught the message and was even more attentive," TaharQa surmised. "He was very in tune with Malcolm X and the Panthers. The Father Allah was one of the musicians of Harlem because he was using the mind with knowledge and wisdom. That's music, too."
Hendrix went to England, secured a recording contract, came back to Harlem and scooped up his friends.
"In 1969, Jimi performed seven or eight songs at Manhattan Center's Grand Ballroom for a benefit concert we conducted," reflected Brother David White, founding member of the original Black Panther Party from Harlem, aka the Fair Play Committee. "Once he started the all-Black band, the manger he had was saying he was getting too Black. It was well circulated."
Shortly after his performance at Woodstock, the Ghetto Fighters hosted a United Block Association Benefit Concert at the intersection of 139th Street and Lenox Avenue, Sept. 5, 1969.
Hendrix joined the ancestors Sept. 18, 1970, under suspicious circumstances.
TaharQa concluded, "When you speak about an energy like Hendrix, he's always had his antennas up for sound. Music is more than just what most of us hear. There's a spirit that goes long before the sound. He was devoted to the spirit of it all."