Hurricane Irma slams Caribbean islands as it heads toward Puerto Rico
By Steve Almasy and Faith Karimi, CNN | 9/6/2017, 8:43 a.m.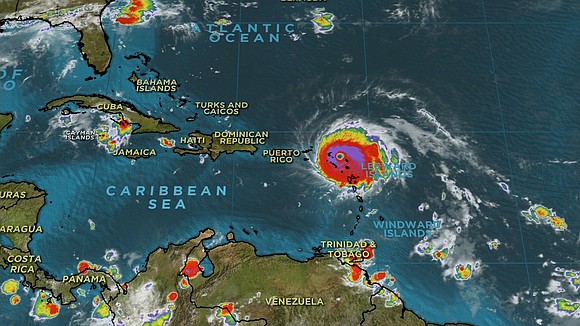 (CNN) -- An extremely dangerous Hurricane Irma pounded tiny northern Caribbean islands Wednesday morning as one of the strongest storms recorded in the Atlantic -- and is on a path to hit parts of the British Virgin Islands and perhaps skirt northern Puerto Rico later in the day.
Irma's core, with maximum sustained winds of 185 mph -- well above the 157 mph threshold of a Category 5 -- slammed Barbuda early Wednesday before hitting St. Martin and Anguilla.
Virginia Barreras told CNN she was riding out the storm in a hotel in tiny St. Martin, an island of about 75,000 people.
"The palm trees are bent over and (I) can't see anything but white," she said early Wednesday, before Irma's core passed over the island. "The walls shake when the wind blows hard, and we can hear debris being thrown around.
The Category 5 hurricane is "potentially catastrophic," the National Hurricane Center said. Besides devastating winds, the center warns of high storm surges that could crush low-lying structures near shore.
Though Irma's path is uncertain, forecasters have said it could turn toward Florida over the weekend, and officials there are ordering some evacuations and shutting down schools.
Latest developments
-- Around 8 a.m. ET Wednesday, Irma's core was spinning about 15 miles west-southwest of Anguilla, with maximum sustained winds of 185 mph.
-- After slamming St. Martin and Anguilla and St. Kitts and Nevis in the morning, the storm is expected to be near the British Virgin Islands and northern US Virgin Islands.
-- The storm's center is then expected to pass near or just north of Puerto Rico on Wednesday afternoon or night.
-- Irma is likely to turn toward the Turks and Caicos islands and the southeastern Bahamas, where storm surges of up to 20 feet are possible, the hurricane center said.
-- It's too early to tell whether it will make landfall on the US mainland, but forecasts show it could churn toward Florida over the weekend.
-- People in Florida should heed any evacuation order, Gov. Rick Scott said Wednesday. "(A) storm surge could cover your house. We can rebuild homes -- we cannot rebuild your family," he said.
-- In the US Virgin Islands, Gov. Kenneth E. Mapp ordered a 36-hour curfew that started at 6 a.m. local time Wednesday.
'We've been hiding in the bathroom'
Irma affected many northern Caribbean islands Wednesday, even those not touched by the powerful core. In Marigot, Guadeloupe, Florida resident Loren Ann Mayo rode out the storm Wednesday morning on the sixth floor of a beachside hotel.
"We've been hiding in the bathroom," she said in a video she posed to Facebook. About an inch of water covered parts of the floor, and pieces of drywall had fallen onto a balcony and a bed inside, she said.
Mayo was there on a business trip. "It is pouring down rain. It is howling," she told CNN. "Most people are either in their bathroom, or they've been moved downstairs to the third floor where management thinks is a very, very safe spot."