A proper send-off and fitting farewell to 'Baba' Dick Gregory
AKISA MUHAMMAD NNPA/Final Call | 9/21/2017, 11:43 a.m.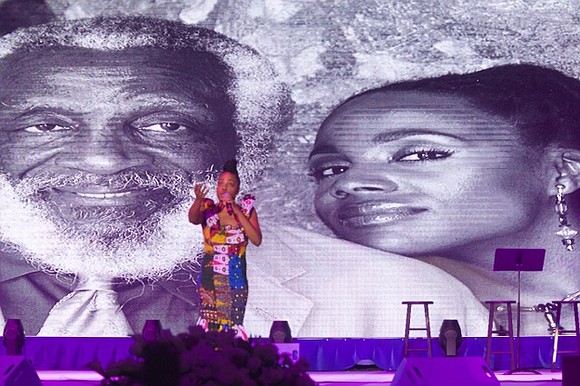 Dick Gregory was a comedian, but he was so much more. He was a civil rights leader, but he was so much more than that. He was a health advocate, and so much more.
The many facets of Dick Gregory's amazing 84-year-life were celebrated and praised over three days Sept. 15 to Sept. 17, with a funeral and a New Orleans-style "Second Line" parade by his family and a long list of celebrities, including Stevie Wonder, the Honorable Minister Louis Farrakhan, comedian Bill Cosby, singer India Arie and actor Joe Morton in attendance, along with political leaders, clergy members, human rights activists and broadcasting personalities.
"We thank him for a life of sacrifice," Gregory's son Christian told the funeral at the City of Praise Family Ministries in suburban Landover, Md. "While we celebrate his life, we also acknowledge all of the suffering, all of the pain and all of the glory."
He continued, "Obviously, losing a loved one is never easy, especially when that loved one is an absolute warrior, father, friend and husband. Everyone kind of feels like they lost their 'Baba.'"
Gregory used the affectionate Swahili word "Baba," a title meaning "brother," or "father" which has been attached as an honorific to Dick Gregory's name for several years.
"The amount of folks that have walked up to me, and without even saying anything, just crying and embracing me," Christian Gregory said, predicting that the evening would amount to a proper send-off for "a legend." "And I just look at them and quickly realize that they realize, despite the fact I have no earthly idea who they are, they know who I am. And I'm not conceited enough to think that that's because they think I'm an amazing chiropractor. I'm crystal clear. It's because they realize who my father is … and who my mother is."
"Mr. Gregory had many titles: funny man, social activist, trail blazer, civil rights leader, health advocate, and author," Washington, D.C. Mayor Muriel Bowser said at the funeral. "But it seemed that the title he relished the most was truth teller."
"In the movement, we used to cry, and shout, and roar against racism," Washington, D.C. Congressional Delegate Eleanor Holmes Norton said. "Dick did us one better. He made racism look absurd. With his brilliant, crossover talent, Dick even made white folks laugh at their own racism." Norton and Gregory were involved in many civil rights and voting rights campaigns, up to and including the anti-apartheid movement in the 1980s.
"He applied his direct, straightforward approach to life, to everything that he did," said Bowser. "On the comedy circuit, he fused humor with plain talk. On the campaign trail, he spoke out against police brutality, and spoke up for criminal justice reform and for resources for substance abuse. And on marches for civil rights he gathered with countless others in defiance of segregation and in support of voting rights."
Like others, Bowser embraced Gregory in Washington, not his original hometown. "Here in D.C. we adopted Mr. Gregory as our very own," she said. "We loved him, and he loved us back."