Remembering Winnie Mandela
Rev. Herbert Daughtry | 4/5/2018, 1:49 p.m.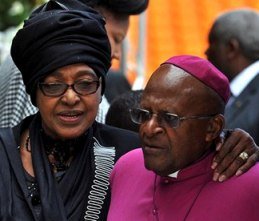 When I first heard the news that Winnie Mandela made her transition (April 2, 2018), sadness flooded my heart and tears welled up in my eyes, but the image that played across my mind was the beautiful, childlike, winsome, smiling face. She always greeted me with that inimitable smile that was reserved only for the people she cared about. I knew behind that smile was the fearless lioness ready to protect her cubs and territory or ready to spring forward, clawing or biting by any means necessary to take what belonged to her and her loved ones. In the 1980s, my family and I hosted her daughter, Zenani Mandela, at our home.
I remember when Winnie Mandela and her husband, President Nelson Mandela, along with members of the African National Congress, came to New York for the first time. I was on the Welcoming Committee, along with my wife, Dr. Karen S. Daughtry, and Julie Belafonte, who were the co-chairs of the Women's Committee. We greeted the Mandelas' entourage at John F. Kennedy Airport. The long line of cars and buses made their first stop at the Boys and Girls High School in Brooklyn, N.Y. Assemblymen Roger Green and Al Vann were the coordinators.
Les Payne, the noted journalist who recently made his transition March 19, 2018, was also there. He was also at the airport. While waiting for the Mandelas, we spent considerable time discussing a number of issues. The main topics were the Mandelas and South Africa.
Winnie Mandela's first public speech was made at my church, The House of the Lord Church, in Brooklyn. There was an intense struggle in the Welcome Committee as to where the Mandelas would visit. My wife and Belafonte suggested they wanted Winnie Mandela at our church. Honoring our long struggle to free South Africa and free Mandela, there was no resistance. There was one caveat—there were those who didn't want Mandela to speak because it could not be absolutely pre-determined what she would say, especially because our church was known for its militancy and heated rhetoric. "We're fired up and we won't take no more," was known to be our slogan. There was no way in the world that we would invite Mandela to our church and tell her that she couldn't speak.
True to who she was, Mandela spoke with all of the love of her people, passion for freedom and anger at the apartheid system. Her words came pouring from her mouth like fiery darts. She said, "If the negotiations fail [Nelson and the ANC were in negotiations with the government on the transfer of power], I am going back to the bush and intensify the struggle."
We all knew what she meant. We were on our feet, clapping, stomping, screaming and yelling, "Winnie! Winnie! Winnie! Keep the pressure on! Keep the pressure on!" I was sitting with Harry Belafonte in the back of the church. We were caught up in the emotion that seemingly shook the church to its foundation.