Vinnette Carroll, first Black woman director on Broadway
Herb Boyd | 4/19/2018, 2:11 p.m.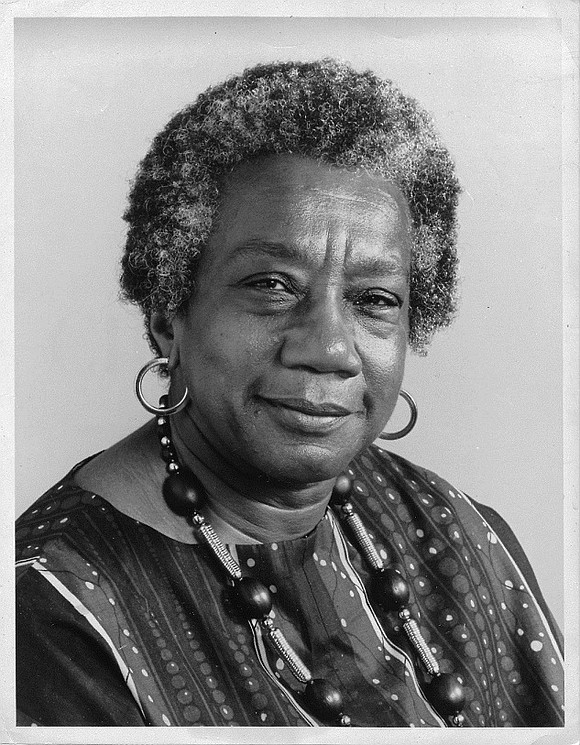 Reading the wonderful tribute to the late Gertrude Hadley Jeanette by Linda Armstrong in last week's edition of this paper brought to mind a number of other theater legends, including Vinnette Justine Carroll. Carroll, the esteemed playwright, actress and director, might have been conjured because of the Vinnette-Jeanette configuration, but the two women had more in common than a harmony of names.
Carroll was born in New York City March 11, 1922, to Edgar Edgerton, a dentist, and Florence Morris. The family moved to Jamaica when Carroll was 3, thereby reversing the usual pattern of West Indians immigrating to the U.S. Carroll spent much of her early years in the island nation. Coming of age in Jamaica with two devoted parents, she was instilled with a mission of accomplishment, classical music and her mother's dream of her being a successful doctor.
On the family's return to the states, Carroll attended Wadleigh High School. In 1944, she received her Bachelor of Arts degree from Long Island University and two years later her Master of Arts from New York University. Rather than pursuing a degree in psychology, a kind of compromise to her parents' middle class dreams, Carroll dropped out of a Ph.D. program at Columbia University but resumed studying the discipline at the New School for Social Research. She was a diligent and resourceful student, so much so that she was awarded a postgraduate scholarship at the school to continue her research in clinical and industrial psychology.
That background was of some service to her when the itch for the theater could not be set aside, and as with her previous endeavors, she was once again the recipient of a scholarship to attend Erwin Piscator's Dramatic Workshop at the New School for Social Research. Later, she would study with the renowned Lee Strasberg and Stella Adler. Like Jeannette, Carroll founded her own theater facility, the Urban Arts Corps, which as a member of the Black Theater Alliance was ably supported by the New York State Council on the Arts and the National Endowment of the Arts and other affiliations.
The Urban Arts Corps proved a lucrative training ground and platform for a series of plays under her direction, including the acclaimed "Don't Bother Me, I Can't Cope," with music and lyrics by Micki Grant; "The Flies"; and "Slow Dance on a Killing Ground." The Corps, again similar to the kind of programming Jeannette offered, was a conduit for many aspiring writers, actors and directors who benefited from the experience and lessons they received under Carroll's guidance.
Meanwhile, there was Carroll the actress, and she made her stage debut at the New School in such plays as "Romeo and Juliette," in which her role as the nurse won her accolades, and as Clytemmnestra in "Agamemnon." She made her professional debut at the Southold Playhouse on Long Island with her portrayal of a Christian in "Androcles and the Lion." In 1948, she was praised for her role as Bella in "Deep Are the Roots." Seven years later, despite her busy acting career, she joined the faculty of the Performing Arts High School in New York City.