Brooklyn street co-named after Jean-Jacques Dessalines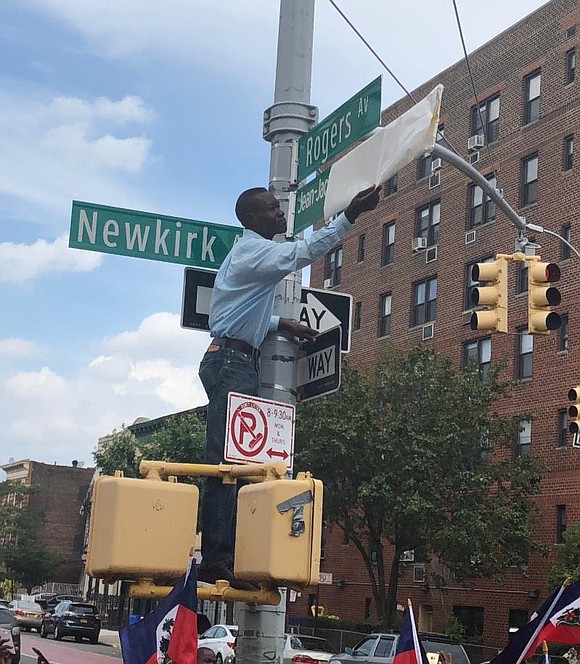 A street sign on Newkirk and Rogers avenues in East Flatbush, Brooklyn now bears the name of Haitian Revolution leader and Haiti's first ruler, Jean-Jacques Dessalines.
An unveiling ceremony took place last weekend is the newly designated area in East Flatbush called "Little Haiti." The celebration coincided with the Little Haiti Street Fair.
Several elected officials were on hand for the unveiling, including Assemblymember Rodneyse Bichotte, Councilmember Jumaane Williams, Congresswoman Yvette D. Clarke, Borough President Eric Adams, Assemblymember Charles Barron, City Council Majority Leader Laurie A. Cumbo and Councilmember Inez D. Barron.
Dessalines became the first ruler of an independent Haiti in 1804. Born into slavery and working until he was 30, he joined the Haitian Revolution. Dessalines eventually became a top lieutenant of renowned Haitian Revolutionary leader Toussaint L'Ouverture. After L'Ouverture's capture, Dessalines took control of the Haitian Army, leading it to several victories over the French, securing the country's independence.
"Jean-Jacques Dessalines is an individual whose historical importance is difficult to understate," said Bichotte. "He was a man who led the first successful slave revolt in world history and, in so doing, created the first free Black Republic in the Western Hemisphere and the second independent country in the region right after the United States of America gained their independence in 1776."
Williams, who introduced the proposal for the co-naming to the New York City Council, noted the powerful symbolism of Jean-Jacques Dessalines Boulevard.
"Jean-Jacques Dessalines was a revolutionary who fought for his people and overthrew an oppressive regime who brutally enslaved and persecuted the Haitian people," he said. "This revolutionary spirit, to fight for independence against oppression, burns bright in Haitian culture today. Haiti and its proud people are an intrinsic part of my district and it is only right to honor that spirit with this co-naming."
Charles Barron said he was a longtime supporter of the initiative to co-name the street after Dessalines, calling him a true revolutionary hero.
"All Americans owe a debt to Haiti and Jean-Jacques Dessalines because of the successful revolution in Haiti over France," said Barron. "Because of the Haitian Revolution, America was able to expand by way of the Louisiana Purchase. This street co-naming is most deserving."
The area where the street was co-named was designated "Little Haiti" and is set within the boundaries of East 16th Street, Parkside Avenue and Brooklyn Avenue, and along Church Avenue between East 16th Street and Albany Avenue.
According to numbers from the Migration Policy Institute, Brooklyn is home to the largest percentage of foreign-born Haitian residents in New York State, with more than 40 percent of the foreign-born population residing in Flatbush.