Civil-rights musical 'Turning 15' is powerful theater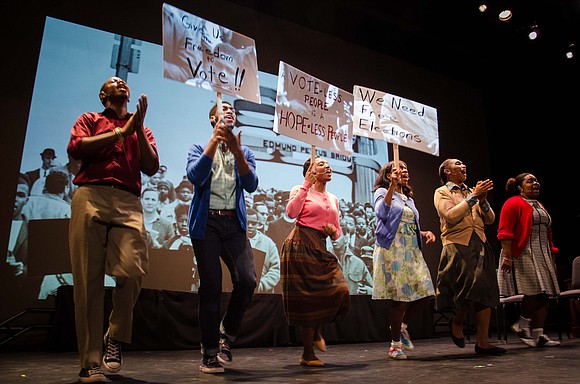 Have you ever witnessed a production and thought, "This is so moving, so impressive, so stirring and informative – this is something that can educate people and make them realize their power That's what I felt as I watched a full-dress rehearsal of "Turning 15 On The Road To Freedom," the true story of Lynda Blackmon Lowery, who was 14 years old when she took part in the Civil Rights Movement in Selma, Alabama and turned 15 while participating in marches, including "Bloody Sunday." The production is based on Blackmon Lowery's book "Turning 15 On The Road To Freedom: My Story of the 1965 Selma Voting Rights March" as told to Elspeth Leacock and Susan Buckley, and was developed for the stage by an actress best known for her roles in "The Breakfast Club" and "St. Elmo's Fire,"—Ally Sheedy. Sheedy has taught theater at La Guardia High School for the Arts and is currently teaching film at City College in New York.
Blackmon Lowery's story is told through a narrator accompanied by dramatic reenactments. It is a gripping story, packed with amazing, showstopping deliveries of gospel and songs from the Civil Rights Movement. And this production educates audiences on how the Civil Rights Movement was also a children's movement.
In this production Blackmon Lowery lays out in black and white,what the Klu Klux Klan would do to intimidate Black people. This production is a history lesson, and historical moments are shared and enacted while photos of the actual people and events are simultaneously projected. Blackmon Lowery's very personal and real story is shared dramatically and vividly through demonstrations of the blatant, violent, cruel racism that Black people faced and had to strive to prevail against. You are shown the strong resolve of Blacks during the Civil Rights Movement who fought for and, when necessary, were willing to die for the right to vote. The production takes the audience through what happened in this country, up to the passing of the Voting Rights Act on Aug. 6, 1965. Blackmon Lowery and Sheedy want young people to know that they have a voice.
The production is filled with inspiring songs such as "Before I Be a Slave, I Be Buried in My Grave," "Keep Your Eyes on the Prize," "His Eye Is on the Sparrow," "We Shall Overcome," and "Sing Out/March On"—a song written by Joshuah Campbell, the musical director.
This production actually gave me chills! I had the chance to speak with Blackmon Lowery, Sheedy, production director Fracaswell Hyman, musical director Joshuah Campbell, and producer Miranda Barry about this production and the purpose of it.
Lowery shared how glad she was to have her story told and hoped it would be used as a means of inspiring young students to get involved in voting. She remarked that she wanted students to realize that they have power. Addressing plans for the show to be performed for students, fans or the general public in churches and other venues, she expressed excitement about having this history lesson brought to life on stage.