'Between Harlem and Heaven'—An Afro-Asian cookbook
OLAYEMI ODESANYA | 2/8/2018, 5:27 p.m.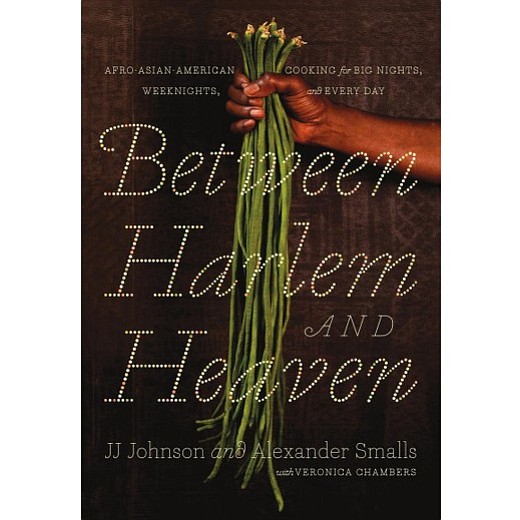 "Nobody ever tells you how much work you have to put in when you are a co-author of a cookbook," said award-winning chef Joseph Johnson. "It took about a year and a half of planning and editing, but I am very glad to see our vision being released to the public."
Johnson partnered with restauranteur Alexander Smalls to debut their first cookbook, "Between Harlem and Heaven," earlier this week. The book has more than 200 pages of recipes of Afro-Asian cuisine. 
"We noticed the lack of diversity when it came to ethnic cookbooks," said Johnson. "We noticed that not a lot of people know about the Afro-Asian diaspora and the influence it has in the culinary world. That is what the book is about. To make sure people are enlightened about the culture. We wanted to make sure we didn't just make an ordinary cookbook. We expect our audience to be creative when they are recreating the meals. Cooking is about experimenting and having fun while doing it."
Johnson knew at the age of 7 that he wanted to work in the culinary field after watching his Puerto Rican grandmother cook. "Cooking was like cartoons to me, it was exciting to see my grandmother prepare and serve us ethnic meals," he said. "I was too young to physically help her, but I would try to contribute as much as I could." As a child, Johnson grew up in the Poconos with his grandparents. His family is from Barbados and Puerto Rican. 
Johnson had his father's approval to become a chef, but his mother was a bit harder to convince. "My mom doesn't like it when I tell this story, but I tell it anyways," Johnson said with a chuckle. "When I first told her, she was like, 'Why not become a doctor or politician? Why become a Black chef?' But, after she realized I really had a passion for cooking, I finally got her approval."
Johnson graduated from Culinary Institutes of America in 2004. "I had such a great time in CIA!" he said. "Still to this day, I am still cool with my friends who I attended school with. CIA is like the Harvard or Yale in the culinary field. CIA has definitely prepared me for real world."
After his time at the Culinary Institute of America, Johnson went to Ghana to study West African cuisine. 
"Being in Ghana was such a great experience," he said. "I learned so much about their heritage and the people. I am glad I had the opportunity to being in such a great country."  Johnson visited other countries as well. 
Johnson worked in restaurants such as Tropico, Tribeca Grill and Centro Vintoeca. He won several awards and was featured in Forbes magazine's "30 Under 30" and Eater's Young Gun. He has served celebrities such as R&B singer Bruno Mars and NBA Basketball star Kevin Durant. 
Currently, he works at The Cecil Steakhouse and Minton's Supper Club in Harlem, both co-owned by Smalls. Smalls is a not only a prominent chef but also a former opera singer and a co-owner of Cafe Beulah. He has spoken at the James Beard Foundation and won a Grammy and a Tony as an opera singer.
"When Alexander Smalls first reached out to me, I didn't know who he was," said Johnson. "But then I realized Alexander Smalls is an icon. A man who accomplished all of that and believed in me to run the kitchen for his latest co-own restaurant changed my life completely. I have never had someone believe in me like that and it felt great. If it wasn't for him, I wouldn't be sure where I would be." 
Johnson added, "I advise everyone to go out and purchase the book. We put so much effort into the cookbook, I doubt anyone would be disappointed."
The book is now available on Amazon.com.