Margaret Burroughs, artist and co-founder of DuSable Museum
Herb Boyd | 1/25/2018, 10:11 a.m.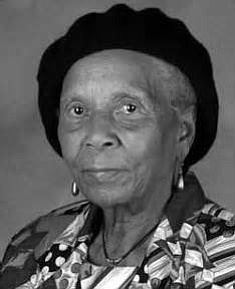 Synonymous with Chicago is the DuSable Museum, and inseparably linking them is Margaret Burroughs. Her versatility as an artist and activist matched the variety of institutions that benefited from her expertise and total dedication to the improvement of the city's cultural and political life.
Born Victoria Margaret Taylor Nov. 1, 1915, in St. Rose, La., her father was a farmer who was also employed at a railroad warehouse. Her mother devoted her time to caring for the family and managing the home. In 1920, as the Harlem Renaissance began to flower, her family moved to Chicago and she attended Englewood High School, where one of her classmates was the legendary poet Gwendolyn Brooks. (Several others who would become famous artists, such as Charles White, Archibald Motley, Charles Sebree and Eldzier Cortor, were also her classmates.)
Sharing their love of literature and community affairs, they joined the youth division of the NAACP and Burroughs later earned her teacher's certificate from Chicago Teacher's College. Part of her civic duties and her activism was her role in the founding of South Side Community Arts Center in 1939, a facility that provided a platform for African-American artists to gather, perform and exhibit their art. Her pursuit of higher education continued at the School of the Art Institute of Chicago, where she earned a bachelor's degree in art education and subsequently a master's degree in art education in 1948.
During this period of community engagement she met and married Bernard Gross in 1939. They divorced in 1947, and two years later she married Charles Gordon Burroughs, who was her husband until his death in 1994.
If her productive life can be said to have had a highlight, it was probably her involvement in the founding of the DuSable Museum of African-American History. From the inception of the museum as the Ebony Museum, she was an active member, helping to coordinate numerous exhibitions, conferences and programs over the years. With her husband by her side, they ushered in the DuSable, which was first located in their home in 1961. She was the museum's first executive director and she often remarked how proud she was of the institution's origins and growth. "We're the only one that grew out of the indigenous Black community," she said. "We weren't started by anybody downtown, we were started by ordinary folks." (It was through her inspiration and passion that Haki Madhubuti founded the Third World Press, and no discussion about the history of the press is offered without his mentioning the debt he owes to Burroughs for her help and influence.)
Burroughs was the executive director of the museum until she retired in 1985, and then she devoted her time to fundraising for the museum and other cultural organizations in the city and elsewhere. In 1973, the museum moved to its current location in Washington Park and today is considered the oldest museum of Black culture in the U.S. Both the museum and its original location on Michigan Avenue have been designated, respectively, National Register of Historic Places and Chicago landmarks.