Liberty settle into new home court
LOIS ELFMAN | 6/1/2018, 9:59 a.m.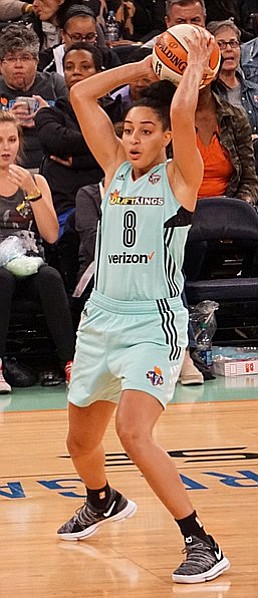 The New York Liberty has dealt with some challenges for the first few games of the 2018 WNBA season. There are injuries—Brittany Boyd has still not fully recovered from the torn Achilles tendon suffered last year; Epiphanny Prince has a concussion; and Sugar Rodgers hurt her left knee in the season opener. On the upside, veteran post player Kia Vaughn has arrived from overseas and rookie Kia Nurse is proving to be pro ready.
"Honestly, she's an energy player. She doesn't mind mixing it up with offense or defense," said head coach Katie Smith about Nurse. "She's not scared of the moment. I know her mentality; whenever she's called on I know she's ready to go!"
After opening play on the road, the Liberty played its first home game May 25 at the Westchester County Center. Although the crowd of 2,315 was decidedly smaller than what the Liberty drew at Madison Square Garden, those in attendance were supportive and enthusiastic.
"Everybody who came out really made it our home court," said post player Amanda Zahui B after the Liberty's close 78-72 loss to the Minnesota Lynx. "It was really loud and it felt like our home court. It was fun to see how many people showed up and showed love for us. It was beautiful. It's a smaller arena, but it didn't feel that small thanks to the energy that the fans brought."
Zahui B said the Liberty played much better against the Lynx than they had in the loss to the Chicago Sky. Team cohesion was improved and defense was stronger.
"They hit some tough shots at the end and we missed some shots that we usually make," said Zahui B, who played in Czech Republic in the offseason and came into training camp playing at a new level. She worked on being able to run the floor better and post up early.
"It's always fun coming back to the WNBA and coming back to New York," said Zahui B. "When we come back here, we're picking up where we left last season…I'm trying to get better and do whatever my team needs."
The Liberty pulled out a tenacious 94-89 win over the Dallas Wings Tuesday. The team has a road game in Indiana Saturday and then return to Madison Square Garden for a day game Tuesday, June 5.