Advocates rally for the homeless
Tyvan Burns | 6/21/2018, 3:58 p.m.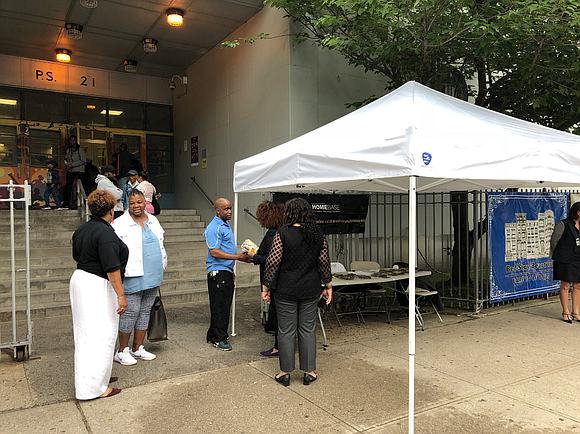 Wednesday, June 13, the Mayor's Public Engagement Unit, the Department of Social Services, and the Department of Education and Department of Homeless Services Homebase providers hosted a day of action, engaging parents and caregivers at 25 elementary schools across the five boroughs during morning drop-off time to inform them of city services available to families at risk for becoming homeless.
Grace Bonilla, administrator for Human Resources Administration, part of the Department of Social Services, stated that, as far as location, they "look at homelessness rates in different neighborhoods to prevent increased numbers." Their goals are to "reach out to these different neighborhoods and spread the message about their services," as well as "to fight income inequality." Before the day of action, the de Blasio administration looked at attendance rates for data purposes to extend these needed services and resources, helping "at least over 1,000 students."
According to the Coalition for the Homeless, "In April 2018, there were 62,498 homeless people, including 15,176 homeless families with 22,801 homeless children, sleeping each night in the New York City municipal shelter system. The number of homeless New Yorkers sleeping each night in municipal shelters is now 83 percent higher than it was 10 years ago."
With numbers of families with children entering shelters rapidly increasing at the end of the school year, Bonilla believes it comes from families "doubling up" and "living with other family members and friends during the school years to provide consistency for their children and continued comfortability in relationships with teachers who are giving them their education." When the school year is over, "they may feel like there is no reason to stay in their housing situation," more than likely being overcrowded.
"We are incredibly committed to prevent homelessness," said Bonilla. The Homebase program is said to be "the most comprehensive and innovative homelessness prevention services network in the country," where they help more than 28,000 households annually to remain in their communities and out of shelter programs.
A week before the Day of Action, on June 7, more than 100 children, including many from New York City homeless shelters, joined the Coalition for the Homeless and other advocates in marching to City Hall, using pictures of homes and Lego houses to "demand that the city dedicate 30,000 units of its Housing New York 2.0 plan to homeless households, including 24,000 units created through new construction."
"In my shelter, I have to walk through metal detectors like I am a criminal," said Iyana, age 13. "I can't go to a sleepover at my friend's house because I have a curfew. The noise is unacceptable, and the smells are intolerable. If the mayor makes more affordable housing, me and my family would be happy."
"Close down shelters, so we don't have to feel like we're in a prison!" said R.J., age 7. "Mr. Mayor, give us affordable housing! If we can build houses, so can you."
"Of the 300,000 units of housing created or saved by the city's housing plan, just 5 percent will be set aside for homeless households, a paltry figure considering the depths of the homeless crisis," said Giselle Routhier, policy director for the Coalition and author of the report. "New York City is set to spend billions on affordable housing over the next decade, but unless more of that housing is targeted to homeless New Yorkers, we won't see a meaningful reduction in homelessness."