NYCHA'S HOPE: AmNews sits down with NYCHA Chair Shola Olatoye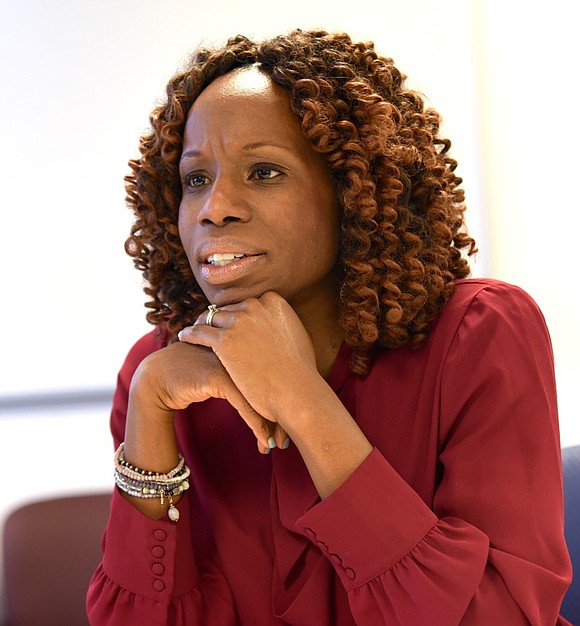 Relentless and vitriolic has been the focused assault on NYCHA in general and the city agency's Chair and CEO Shola Olatoye in particular.
"I am solution-based," Olatoye said in an exclusive interview this week. As she wrangles the burgeoning behemoth of a city within the city, "Let's build a bigger table" is the mantra that Olatoye wants to emphasize as she seeks citizen, public and private partners to slay NYCHA's demons. "I understand the anger. I hear the frustration as the head of this agency, but as I always say to my staff, 'OK, so what's your plan? Come to me with solutions.' I don't have all the answers. This is 40 years here—you guys want solutions in four years."
The Harlem mother of three with one of the toughest and most visible jobs in the city acknowledges that there have been "leadership and management challenges," as well as some basic issues that plague the biggest public housing system in the country.
"Rebuilding trust" through "community engagement" is key, she said.
With a staff of 11,000 with "a third living in NYCHA," Olatoye said that she hears about the issues as she visits the developments almost daily or interacts with her staff in the field, in the wake of the New York Housing Authority's 400,000 residents who were subjected to the failure of outdated boilers, resulting in horrific cases of no heat and/or hot water in the heart of bone-chilling winter storms. The anger was only partially soothed by Mayor Bill de Blasio's announcement of a $200 million investment to replace boilers and to upgrade heating systems at 20 of NYCHA's 326 developments enduring some of the worst outages. The outrage swiftly resurfaced, though, when it was reported that the 45,000 residents would have to wait until 2022 for all the renovations to be completed.
"I completely understand the feelings of dismay and disappointment that residents have as it relates to maybe their own conditions in public housing. My grandmother lived in public housing 30-plus years ago. I very much remember taking the elevators in Albany houses in Brooklyn in the 1980s, and being afraid of you know what you shouldn't be afraid. The challenges that face the New York City Public Housing Authority haven't happened in the last four years—this has been a 40-year long national story of the federal government stepping back, cutting its investment in public housing. The public housing program basically stopped in 1978, and has been in a steady decline since. In other parts of the country civic leaders made the decisions to whether be privatized or partner with the public sector or the private sector to rehabilitate their housing. So while they were all going left, New York made a very concerted decision to go right, and to not do that. So here we find ourselves, you know, in 2018 facing a significant capital backlog, meaning we have over $17 billion in capital needs, and really no clear sense of where that money is going to come from. President Trump just released a budget three weeks ago that essentially zeroed out the public housing program. So, while Congress passed a budget for a year and a half, we have 176,000 units. If we were a city we'd be bigger than Miami."