Who killed Brandy Odom? Family demands progress in case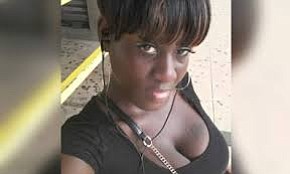 While Nicole Odom waits patiently to hear news about her daughter Brandy Odom's murder, she said the Police Department is not communicating with her. While NYPD press office told the Amsterdam News that there are "No updates at this time," DA Eric Gonzalez's office told the paper to contact the Police Department.
And therein lies the angst of a frustrated and anguished family.
"If she was a little Caucasian girl, would the case move faster?" asked Nicole Odom. "You found a whole dismembered body in the park, and it's the media who are coming to my door, but the Police Department isn't telling me anything."
April 9, dismembered body parts were found in Canarsie Park, Brooklyn. A head and torso were discovered first by a person walking a dog, and limbs were found later. Then a saw was found in a trash can. The body was to be identified as Brandy Odom, 26.
The shock reverberated across the city. Temporarily it seems.
Thursday, April 26, the young woman was funeralized at Brown Memorial Baptist Church in Brooklyn. Retired NYPD captain and current Borough President Eric Adams was in attendance, along with Min. Abdul Hafeez Muhammad, members of the Nation of Islam with community members and activists.
Min. Muhammad, who is Min. Louis Farrakhan's East Coast regional representative, is head of all the Nation of Islam mosques on the East Coast.
Because of the veracity of the crime and the lack of major outrage and extensive media coverage, Muhammad said, the NOI became involved after it became known that, "Nicole Odom, the mother of Brandy, felt that they were not getting the kind of support this case warranted." He added, "She said that she was not hearing from law enforcement about movements that they were making."
Muhammad added, "Brandy was murdered somewhere, according to law enforcement. She was dismembered, and then brought to the park, her head and torso, her legs and limbs in another place, and they found the saw that was used. This was heinous, this was gruesome, this was a savage act. There are suspects, but Miss Odom has found this out from the news media calling her, but not the law enforcement. So they have had a suspect in custody and let them go. They are looking at the female roommate and another male suspect, and I think they have subpoenaed phone records. So they are going after it, but we intend to sit down with law enforcement and the DA's office."
Muhammad continued, "When the young girl was found in Howard Beach, I saw them communicating with the family. They knew what was going on. We are expecting them to search and find out what happened to Brandy. I think class and color is an issue. Understanding all the other issues, but this is an intelligent and sophisticated law enforcement— so they can do much better."
"I do appreciate the help they have given," Nicole Odom said, "but I really do not think that they are communicating with me enough. Anything I am learning about your daughter's murder, I am hearing from reporters in the media. I have only been given the name of Detective Loretto, but I can never get hold of him. They are not even calling me to tell me how the case is going, or to check on us."