Slain Brownsville teen funeralized in Brooklyn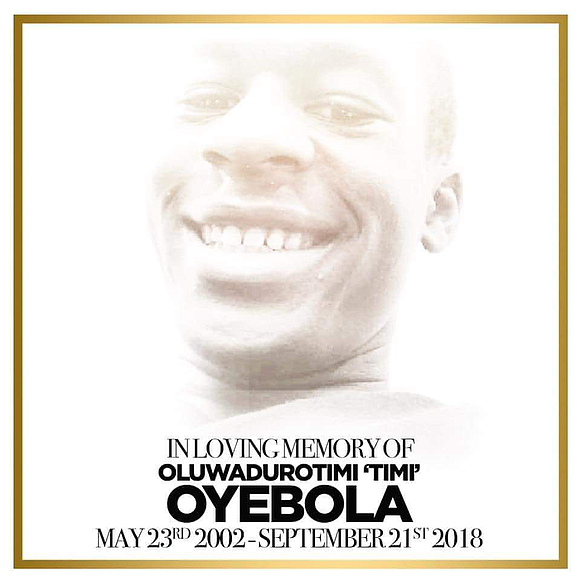 The heartbreak and pain was palpable at the wake and funeral of 16-year-old Oluwadurotimi "Timi" Oyebola, who was shot and killed reportedly by a 14-year-old boy who fired at youths playing on a basketball court at Brownsville's Chester Playground Sept. 21. Family, friends, schoolmates and faculty, activists and politicians came out to show respects to the brilliant young man who police believe just got caught in crossfire.
Noting how much his son loved basketball, and died "playing the game he loved," David Oyebola announced that in an attempt to "prevent this from happening to another 16-year-old playing in the park," he would be establishing the Timi Foundation in his son's name. He also decried the young age of the suspect, Aaron Nathaniel, charged with murder and criminal possession of a weapon. Reports state that he is to be tried as an adult. The grieving father stated that his son's killer has a "lack of love for himself, his fellow being and for God, which mostly likely resulted from a failed home and a failed system."
Oluwadurotimi had only been in the U.S for five years, when his father brought him and his younger sister from Nigeria "for the American dream."
Even though the family lived in Queens, Timi went to the Brooklyn Ascend Charter School in Brownsville.
The wake and funeral were Friday, Oct. 5, and Saturday, Oct. 6, at the Guarino Funeral Home. He was laid to rest at Canarsie Cemetery in Brooklyn.
"He was a bright star who touched lives in the short period of time," Oyebola said. "Timi had a bright future, way intelligent for his age, and was going to be an engineer."