Johnny 'Wah Wah' Hudgins, a burlesque comedian of renown
Herb Boyd | 9/27/2018, 12:27 p.m.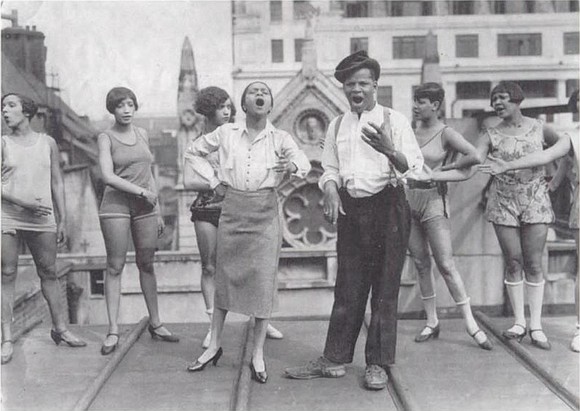 In researching last week's profile on Fredi Washington, I stumbled repeatedly on Johnny Hudgins. I had first heard of him after reading the biography of Josephine Baker, who extolled him as a friend, entertainer and bon vivant. I have succumbed to another coincidence, and here's a deeper inquiry into the life and legacy of Johnny Hudgins.
Born May 5, 1896, in Baltimore, Md., Hudgins began performing in local nightclubs and on local stages, where he sang and danced. He was obviously good enough to be offered a spot on the burlesque circuit, and often appeared in blackface, a burnt cork tradition that was not just used by white performers. In this practice, he might have been influenced by Bert Williams, who he often saw onstage.
Hudgins' versatility and crowd-pleasing routine were highlighted in Noble Sissle's and Eubie Blake's "Chocolate Dandies" in the 1920s, at a time when the Harlem Renaissance was at its apex. At the curtain call of one performance of "Chocolate Dandies" in 1924, Hudgins, in black face, can be seen cuddling Josephine Baker. "To be funny then," Hudgins said, "colored comedians had to cork up."
From these opportunities, he earned the praise and interest of producer Lew Leslie and became a member of various versions of his "Blackbirds."
He became known as the "Wah Wah Man," a nickname given to him after his unique dance routine and lip sync done while accompanied by a muted trumpet. This signature performance often required some of the top trumpet players of the era, including Doc Cheatham, Johnny Dunn, Joe Smith, Louis Metcalf and the imitable Rex Stewart, who was often featured in Duke Ellington's orchestra.
There is an appealing photo of Hudgins, his mouth wide-open in a wah wah expression, and next to him is Florence Mills, with a chorus line in back of them.
When Hudgins wasn't on the stages at the Apollo, the Lafayette and other Harlem clubs, as well as the Regal and on the burlesque circuit on America, he was on tour in Europe, particularly in London and in Paris, where he was hailed as the "colored Charlie Chaplin." Like Chaplin, Hudgins was a master at pantomime and rarely, if ever, spoke from the stage.
For several seasons he starred in the famous La Revue Negre, where he shared the stage with Josephine Baker. It should be noted that Hudgins and Baker had been friends since the early 1920s, when they were both part of the TOBA circuit (Tough on Black Actors or other parts of their anatomy). Another traveling companion was Mildred Martien, who was married to Hudgins.
In September 1927, Hudgins shared the billing with Baker and Fredi Washington during a benefit for the American Legion in Paris at the Gaumont Palace Theatre. For Hudgins and Baker, it was a reunion because they had their differences, especially Hudgins, who insisted that Baker was upstaging him and stealing his act. But they were apparently on good terms again and Hudgins, according to his wife, said that Baker was "good for the race."