Wilfred DeFour, a valiant and vital Tuskegee Airman
Herb Boyd | 1/3/2019, 1:24 p.m.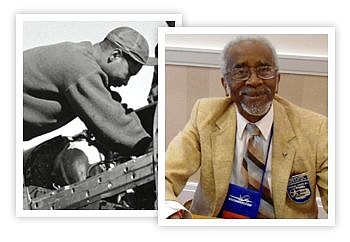 Walk the streets of Harlem, chat with the vendors or stop off at the Apollo Theater and say hello to Billy Mitchell, "Mr. Apollo," and you can catch up on all the news you might have missed in the papers, on television, on radio or on social media. From Mitchell I learned that Wilfred DeFour, a member of the famed Tuskegee Airmen had joined the ancestors Saturday, Dec. 8. Defour, 100, was found dead at his home in Harlem.
Mitchell reminded me that one of DeFour's last public appearances of note occurred in November, when he was at the post office on Macombs Place, the Colonial Park Station that was being renamed in honor of the Tuskegee Airmen.
"I regret so many of my comrades are no longer here with us," DeFour said at the ceremony attended by former Congressman Charles Rangel, his successor Adriano Espaillat and Assembly members Inez Dickens and Al Taylor. "We had no idea we were making history," said DeFour, who was an aircraft technician. "We were only doing our job."
The renaming of the post office station "will mean there's recognition of the Tuskegee Airmen and that's important," DeFour added.
Having a post office station named for the airmen must have had a special resonance for DeFour because after his military service he spent 33 years working at the U.S. Postal Service. According to a report released three years ago, there were some 600 Tuskegee Airmen still alive. With the passing of DeFour, that number is now reduced by one.
Very little is known of DeFour's life before his military service. But according to Return of the Red Tails, a nonprofit dedicated to preserving the memory of the Tuskegee Airmen, DeFour joined the Air Corps in 1942 and was assigned to the 366th Air Service Squadron, serving in Italy after he completed basic training in Tuskegee, Ala. Movie goers who saw "Red Tails," starring Cuba Gooding, Jr. and Terrance Howard, should note that De Four, perhaps represented in a composite character portrayed by James Weston, was among the technicians who painted the red tails on the planes.
With the release of the film in 2012, many of the former Airmen were often invited to speak at various public events, including at schools, libraries and museums. In 2016, DeFour, along with Dabney Montgomery, who died later that year, visited a fifth grade class in Hempstead, N.Y., to mark Black History Month. Montgomery told the children that when he returned to civilian life in his native Alabama after the service, he was not allowed to vote.
"We have lost so much talent," he said. "We have lost so much achievement because of discrimination." And DeFour said that not only the children but also the nation at large needs to know more about the courage and commitment of the Tuskegee Airmen. "We need to spread the word to let them know what went on in our time. It's history."
Part of that history was spent with his loved ones, including his wife who died in 2005. Two of his neighbors who lived near him in the Riverton Square Apartments said that DeFour, even in his last years possessed, all of his faculties.