Entrepreneur, fitness enthusiast creates unique wellness experience
1/24/2019, midnight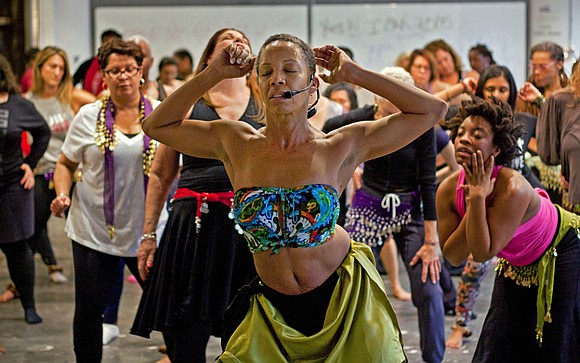 The seed for Bernadette Pleasant's business, Femme! Fitness, was planted many years ago when she was just a teenager.
"When I was in high school" she recalled, "I had an amazing day and couldn't wait to get home and share my news with my mom. When I got home, I knew it wasn't safe to share my emotions. She couldn't receive my joy. I walked into the house and ended up just telling her my day was 'OK.'" It's a phenomenon Pleasant continued to observe in herself and others throughout her life, even after she became a successful researcher at publications such as The Economist and The New Yorker, and owner of a thriving bridal shop in Manhattan.
"I often caught myself stifling my emotions," she said. There was one place, though, where her feelings and emotional tendencies seemed to function in a much healthier manner—on the dance floor.
She said, "When I would go to salsa clubs listening to the congas and live drums, it was the time I wasn't judging myself. It was the time I felt free of the negative self-talk. It was this beautiful release."
After training "in yoga and other modalities and working with psychotherapists" to come up with her system, Pleasant finally started Femme! five years ago. She said named it Femme! "Because I was thinking of a curve, of fluid feminine movement of emotion." She added, "Then I added the exclamation because I felt it needed and deserved one."
Now she does for others what her own experiences in dancing and other forms of movement did for her.
With live djembe drums as backdrop, Femme! Fitness is an out of this world 90-minute mind/body wellness experience combining both movement and meditation, with a goal of release and catharsis. "The bulk and signature of the class, is called the Emotional Tour built on a heart rate system," explained Pleasant.
Pleasant is the emotional tour guide, ushering participants through six emotions: joy, grief, rage, lust, confidence and, surprisingly, flirtation. Pleasant clarified, "Lust is about finding yourself right for wanting things, whether it's a relationship or financial abundance. It's about saying 'Yes, I'm worthy of this!'"
Although there is movement throughout the class, there is no choreography. "There is no learning to dance," said Pleasant. "It's actually something I want to move away from, because I want there to be freedom in the body."
The classes, which feature participants who are an array of ages, shapes, sizes, genders and cultures, take place at different locations, such as Pearl Studios in Midtown Manhattan. It's very easy to keep up with locations via the website www.livefemme.com or social media at livefemme.
After five years, Pleasant has noticed a shift in the overall emotional landscape the past two years or so. She shared. "I definitely have seen more grief and rage over the past few years and just a low-grade melancholy, that inability to put words to feelings. That's why I encourage sound. I've observed that when there's a lot of emotion in the body, there is a tendency to become mute and the emotions come out sideways. I prefer that they come out in healthier ways."