Government reopens, but federal workers won't forget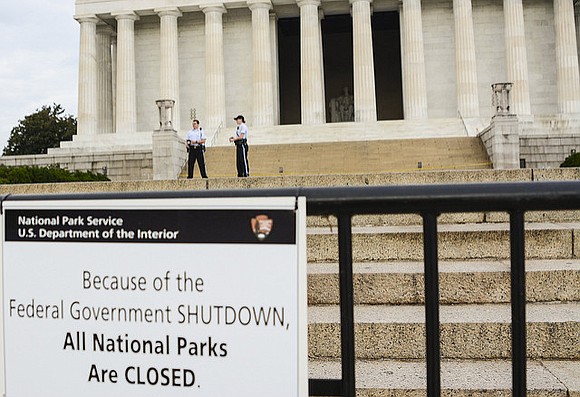 After 35 days, President Donald Trump decided to end the shutdown. That doesn't mean that the fight for his border wall is over, nor does it mean federal workers will let bygones be bygones.
Last Friday, Trump signed off on a bill that temporarily ended the government shutdown, leaving legislators three weeks to engage in homeland security funding talks before the fear of a potential shutdown returns. Trump said on Twitter, "Does anybody really think I won't build the WALL? Done more in first two years than any President! MAKE AMERICA GREAT AGAIN!"
The collateral damage, in this case federal workers, missed two paychecks, and some had to use online fundraisers to have basic medical needs met. Although 800,000 workers will be paid, more than 1 million contractors won't. Those not getting back pay include some of the lowest-wage federal employees such as food service workers, janitors and security guards.
AFL-CIO President Richard Trumka said he's glad the shutdown is over, but he isn't giving the president credit for it. According to Trumka, the president was forced to give in and capitulate to the people.
"President Trump didn't want to end this shutdown—the collective action of working people demanded it," stated Trumka. "By marching, rallying and protesting together, we forced him to the table and ensured that the labor and dedication of our public servants will not be taken for granted."
"However, this fight is far from over," continued Trumka. "Federal workers urgently need their back pay distributed; in the case of federal contractors, they still need it to be authorized. And both deserve a long-term funding bill—not one that leaves them hanging with just a single guaranteed paycheck."
During his speech announcing the end of the shutdown, Trump said that if he didn't get a fair deal on homeland security funding or a border wall he'd shutdown the government again. The president also invoked the possibility of declaring a national emergency in order to secure funding for his border wall.
Congressman Adriano Espaillat reminded the people that Trump only cares about himself and not the people.
"During his speech today Donald Trump once again made the current state of national affairs about himself, while patting himself on the back for a reckless and pointless 35-day government shutdown that cost the U.S. economy billions of dollars and put 800,000 federal workers and their families under unnecessary financial strain," stated Espaillat. "I am grateful that a deal has been reached to temporarily reopen the government, but I remain adamant in my opposition to support any legislation that includes funding for a border wall."
Federal workers resorted to food banks, online fundraising and temporary reprieves on payments to deal with not getting paid. According to analysis from the nonpartisan Congressional Budget Office, the government shutdown costs ($11 billion) are higher than what Trump is demanding in funding for his southern border wall ($5 billion).
Presidents of both public and private sector unions, including the American Federation of Government Employees, Association of Flight Attendants-CWA, Air Line Pilots Association, International Association of Machinists and Aerospace Workers, National Air Traffic Controllers Association, Professional Aviation Safety Specialists and the Transport Workers Union, discussed how the government shutdown affected the aviation and front line transportation workers.
The union presidents focused on attrition in safety-sensitive positions as a result of workers not being able to afford living without a paycheck; how stress levels affect those who play pivotal roles in keeping the aviation industry safe; and the broader economic and security risks that come with a prolonged shutdown.
"We have growing concerns about the effects this shutdown is having on our aviation system," a joint statement from the union presidents said. "There is going to come a point when we are no longer able to maintain the levels of safety and security the aviation industry and the traveling public have come to know and rely upon. The longer the shutdown goes on, the greater that threat becomes. Lawmakers have a responsibility to preserve the safety and integrity of our nation's aviation system by re-opening the federal government."