WHO WILL EMERGE?: The race for public advocate—full speed ahead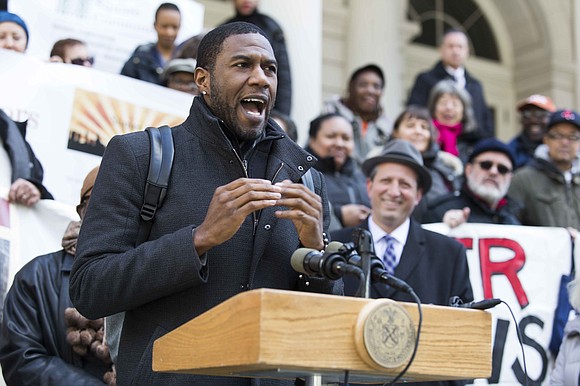 When many candidates enter a political race, political insiders say the one with the most name recognition will probably win. When multiple people with name recognition enter a race, the saying is the person who raises the most money will win. There are a few candidates in the race for New York City public advocate who possess both of these qualities.
The position serves as watchdog over City Hall, but with very little power to actually effect change. Other public advocates have used the position as a steppingstone to something greater, including current New York City Mayor Bill de Blasio. Letitia James used the position to lift herself to becoming New York State attorney general. Last year, New York City Council Members Kalman Yeger, Ritchie Torres, Mark Gjonaj and Ruben Diaz Sr. co-sponsored a bill to eliminate the public advocate position entirely, claiming it has outlived its purpose.
But it's still here, and it's coveted by more than a dozen candidates.
So who has the best chance of becoming the next public advocate? Voter turnout could play a role. But do New Yorkers know who all of the candidates are? Mostly. However, the market is flooded. Candidates for public advocate will face off in a special election Feb. 26, but some candidates are more notable than others.
New York City Councilman Jumaane Williams looks to have the political wind at his back. Emerging as a favorite to win the public advocate seat, Williams has the money and the political cache to emerge victorious.
Last week, the City Councilman and former New York State lieutenant governor candidate submitted his second financial disclosure report to the New York City Campaign Finance Board. As of last week, his campaign had raised more than $119,000 in matching funds. He received more than 2,000 individual contributions—more than any other public advocate candidate. The report also showed that Williams received 85 percent of his campaign funds from donors in New York City.
"I'm excited and honored to have the support of the West Harlem Progressive Democratic Club and Ernest Skinner Political Association in our campaign to be the People's Advocate," Williams said in a statement. "These grassroots groups are powerful, progressive forces in New York City politics, so I look forward to working with them as we enter into the final stretch of this competitive campaign to continue our momentum and ensure that this city becomes a progressive beacon for all."
Running on "The People's Advocate" ticket, Williams is also the first candidate to use the television airwaves to push his candidacy. In one ad, he highlights living with Tourette syndrome and being out in front in favor of policies designed to curtail police misconduct. These policies include the 2013 Community Safety Act, which helped curtail NYPD's controversial stop and frisk tactic. Williams was the lead sponsor on the bill.
While assuring that, "We had a winning campaign plan. The execution of the plan is going well." Jumaane Williams told the Amsterdam News, "I won't stop being concerned about my chances until 9:01 p.m. on Election Day."