Cuomo officially signs bill giving farmworkers protections and right to organize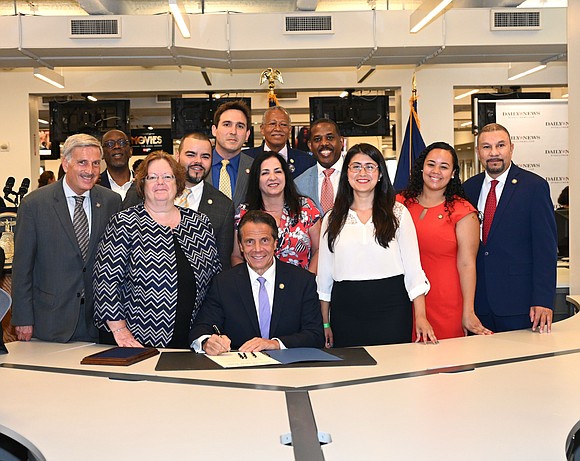 By STEPHON JOHNSON
Amsterdam News Staff
Farm workers in New York State now have the right they've clamored for.
This month, New York State Gov. Andrew Cuomo signed the Farm Worker Fair Labor Practices Act. The bill gives farmworkers in the state the right to form unions to ensure better housing and working conditions. The law goes into effect Jan. 1, 2020.
"First, as a practical matter, 100,000 farm workers will have better lives," said Cuomo. "Their families will have better lives. They will finally, finally have the same protections that other workers have had for 80 years. Unemployment and disability insurance, workers compensation, over-time pay, paid family leave—the best policy in the United States right here in the State of New York. A day of rest and the right to organize and collectively bargain."
The Farm Laborers Fair Labor Practices Act allows farmworkers to collectively bargain and requires employers to allow at least 24 consecutive hours of rest each week as well as a 60-hour work week and time and a half for overtime work. It also ensures sanitary codes apply to all farm worker housing regardless of the number of occupants, removes a payroll threshold for farm workers to obtain workers' compensation, allows farm workers to receive disability and paid family leave, requires reporting injuries to employers, and makes provisions of unemployment insurance law applicable to farm workers.
"The Farm Laborers Fair Labor Practices Act will help build a stronger and fairer agricultural industry throughout New York State," stated New York Senate Majority Leader Andrea Stewart-Cousins. "The legislation signed today will stand up for farm laborers and ensure they have the rights and protections that other New York workers have access to. I applaud Senator Jessica Ramos for championing this bill and holding hearings and visiting farms throughout the state to better address the priorities and concerns of farm laborers and the agricultural industry."
But farm owners want the state to take a second look at the bill.
Grow New York Farms, an organization representing farm workers, asked that the bill be amended. The group found four flaws in the legislation and wanted the bill to apply a standard wage rate for farmworkers who work on their day of rest, expand the family farm definition to include extended relatives, modify the timeline and makeup of the wage board, and preserve secret balloting for farmworkers and farmers.
GNYF said the revisions they requested to the bill weren't tacked on to the one Cuomo signed.
"Long Island has a proud tradition of being a source that New Yorkers turn to for fresh food, wine, flowers, landscape plants and more. Our farms have also provided good, quality opportunities for our employees to get job experience and support their families at home and abroad and have the potential to advance their careers," said Karl Novak, president of the Long Island Farm Bureau, in a statement. "Sadly, those days are numbered as the farm labor bill will force dramatic changes on agriculture as we know it. It won't just be our farm families and employees who will suffer, but our customers who value what it means to buy 'Grown on Long Island.'"