Last-minute summer vacation ideas
SHERYL NANCE-NASH | 7/25/2019, 11:36 a.m.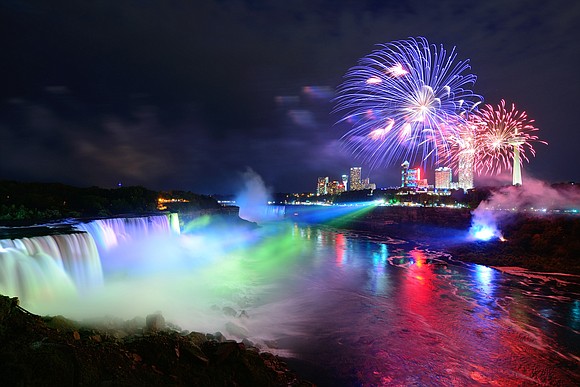 Somehow it is already the middle of July. Memorial Day and the Fourth of July came and went and yet you still haven't managed to get out of dodge. No worries, it's not too late to plan a last-minute summer escape. Maybe you don't go to a far-flung destination, save that for next year. For now, there are plenty of places to provide as much fun as you can handle, not so far from home.
Go ahead, pack your bags.
Niagara Falls, Ontario
Make it easy on yourself. Vacations By Rail handles all the logistics. Take Amtrak's Maple Leaf Canadian-bound train line from Manhattan. Sit back, relax and enjoy the awesome scenery, forests, mountains and more. Included in the package is a Niagara Falls Adventure Pass, which gives you admission to the Hornblower Niagara Cruise ride to get intimate with the titular 50-meter cascade of water. Get another perspective on the Journey Behind the Falls tour. Explore the caverns 150 feet below ground and you'll have the chance to stop at various observation points of the waterfalls. Vacations By Rail's package also includes two days of WEGO bus access, the Hop-on, Hop-off bus transportation system that connects with other tourists' spots.
Norfolk, Virginia
What's doing in Norfolk? Plenty. Perhaps plan a visit around the Norfolk Waterfront Jazz Festival, Aug. 23-24. You don't want to miss Roy Ayers, Lonnie Liston Smith, Tom Browne, a host of others, as well as vendors offering food, wine, arts, crafts and more. Don't fill up too much though, you'll want to save room and hit some of Norfolk's beloved restaurants like Todd Jurich's Bistro, Doumar's and 80/20 Burger Bar. Convenient to the action and new too boot, check into The Main, the latest addition to the hotel scene. It's along the downtown waterfront and walkable to cultural attractions, shopping and dining.
The Sullivan Catskills, New York
Not that you need an excuse, but it's the 50th anniversary of Woodstock in Bethel Woods and there are all sorts of celebrations planned all year along, especially during the anniversary weekend of Aug. 16-18. You'll want to check out the Dove Trail commemorating the 50th anniversary of Woodstock. It features 50 fiberglass-sculptured doves perched throughout the county. Local artists, who in their dove designs paid homage to the anniversary of Woodstock and Peter Max, painted each dove. They used a 1960 inspired color palette creating distinctive designs indicative of the era and character of the local community. There are always great concerts at the Bethel Woods Center for the Arts. There's much buzz too about the new Kartrite Resort & Indoor Waterpark. Folks are saying it's one of nation's most modern, state-of-the-art indoor waterparks. There are more than 300 suites and luxury lodges set in the mountains. If you're looking for a wellness retreat, consider the YO1 Wellness Center to detox and de-stress. Sullivan County is home to microbreweries, distilleries, boutiques, art galleries and more.
Stonington, Connecticut
You've likely heard of Mystic, but there's also a cool spot less than 5 miles from there. In Stonington you'll find mile-long beaches and historic homes with that classic New England pizazz. Wine taste away at Stonington Vineyards, Jonathan Edwards Winery and Saltwater Farm Vineyard. There's the Old Lighthouse Museum. You can stay in the heart of town at the Inn at Stonington. Enjoy a complimentary wine cheese in the evening and continental breakfast. You're close enough to take in the sites at Mystic like the aquarium, Mystic Seaport Museum, and the town's legendary Mystic Drawbridge Ice Cream. During July and August, the Whaler's Inn is offering a special "Seas the Day" package, including a two-night weekend stay with tickets to sail on the Schooner Argia and admission to the Mystic Aquarium.