Jazz Power Initiative
Ron Scott | 6/20/2019, 11:42 a.m.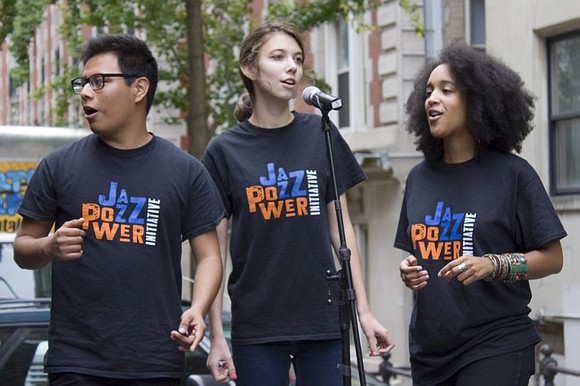 The Jazz Power Initiative is one of the significant organizations filling the void left by New York City's public schools not offering all students classes in the arts from theater, dance and music. An acclaimed education, performance and training organization, JPI launched its local uptown programs in 2004 and has served over 2,200 young people, hundreds of senior citizens in the U.S. and abroad, and has reached over 30,000 audiences through public programming, including regular public jams at the National Jazz Museum in Harlem and the United Palace in Washington Heights. On May 29 the organization honored NEA Jazz Master and JPI advisory board member Kenny Barron as part of its year-long 15th year celebration.
On June 23 the organization will toast 15 years of service with a public 15th birthday party (with cake!) and its Youth Showcase (from Jazz Power Youth Workshop) at the National Jazz Museum in Harlem (58 West 129th Street) at 3 p.m. The students ages 11-19 will perform in the jazz musical, "Nora's Ark."
It is one of five jazz musicals for children co-written by Eli Yamin, Jazz Power Initiative co-founder and managing and artistic director and Clifford Carlson. The jazz ensemble will feature trumpeter Mark McGowan, saxophonist and flute Chris Byars, bassist Jennifer Vincent and drummer Dave Gibson.
During a recent interview in Harlem with JPI's teacher artist singer and radio host Antoinette Montague, and program coordinator, teaching artist and actor Brian Fender and co-founder Yamin we discussed the merits of the program and its on-going projects.
Fender, the youngest of the three interviewed, has been on staff for the last three years. He first discovered JPI while taking a jazz history course at Marymount Manhattan College, taught by Yamin. "While taking the class Eli and I connected musically," said Fender. "It was our music connection that inspired me to attend the Jazz Power Institute at Lehman College where I learned a sense of community. I am blessed to have been mentored by incredible musicians like Antoinette and Eli. It has been such a great experience working with our young people and watching them grow." Fender's career as an actor is just starting to blossom with a role in Spike Lee's film "BlacKkKlansman" and the Netflix series
"Get Down."


Montague has been with the program for seven years and says she volunteered to participate in the JPI through her nonprofit organization. "I am committed to giving back to the community and working with our under-represented youth is one of my on-going goals. The lightning rod for me is not to forget how powerful this art form is," said Montague. "We can never forget to honor the source of this African contribution. So far this has been an incredible journey."
Yamin, who is quite modest, is more comfortable talking about Jazz Power's mission as opposed to his career as a jazz pianist, composer, singer, producer and educator. At an early age he played in the bands of such masters as Walter Perkins, Illinois Jacquet and Barry Harris. He also worked closely with director/choreographer Mercedes Ellington when, at 24, he served as musical director/pianist for the 10th anniversary tour of Duke Ellington's Sophisticated Ladies.