Obama portraitist Kehinde Wiley with new sculpture, leads artistic charge to change historical narrative
NADINE MATTHEWS | 10/3/2019, 3:28 p.m.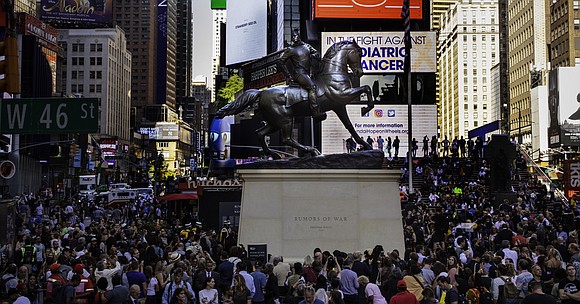 On Friday, Sept. 27, beneath Times Square's larger-than-life digital billboards at 46th Street—where images of Oprah Winfrey, Armani spokesmodel Madisin Rian, and the cover of Ta-Nehisi Coates' latest novel flickered on and off—there was a palpable buzz. The reason for the buzz was the 27 foot high sheathed figure at the western corner of the plaza, and the man responsible for what was beneath it.
The buzz kept growing as art world stalwarts like Thelma Golden, Antwaun Sargent, and founder of the eponymous Sean Kelly Gallery arrived and joined the throng. It grew further with the spirited appearance and performance of Newark, New Jersey's Malcolm X Shabazz Marching Band, and with the appearance of each successive speaker, finally reaching a fever pitch as artist Kehinde Wiley took the clear, acrylic podium.
The unveiling of Wiley's monumental sculpture "Rumors of War" was the culmination of a partnership between Sean Kelly Gallery, the Times Square Alliance, and the Virginia Museum of Fine Arts. The monument will remain in Time Square until Dec. 1, then move to its permanent home near Richmond, Va.'s Arthur Ashe Boulevard outside the Virginia Museum of Fine Arts.
Wiley's commentary on the many Confederate statues dotting the U.S. landscape to this day, captures in bronze on a stone pedestal traditional American artistic iconography of heroism and power. It features a young Black man in dreadlocks, astride a horse in forward motion, suggesting fierceness, agency and virility. He is decked out in urban jeans, his sweatshirt is hooded.
Speakers noted the significance of Wiley's creation beyond artistic considerations. Commissioner of New York City's Department of Cultural Affairs Tom Finklepearl congratulated the city of Richmond (the former capital of the Confederacy) on choosing to display "Rumors of War."
Finklepearl also emphasized the importance of artists. "It matters a lot to us," he said, "that the greatest artists of our generation have to be involved. It's not simply a matter of putting up a monument, but how does that monument express itself and what kind of artist makes that monument?"
Richmond Mayor Levar Stoney gave an impassioned speech. "Richmond isn't the same city we were 100 years ago. Today we are stronger because of our diversity. We are stronger because of our inclusivity." Referencing Wiley's 2016 visit to Richmond where he got inspired to create "Rumors of War," Stoney stated, "I think [Wiley] saw that when he visited us. In Richmond, 'Rumors of War' will be our symbolic battle cry. It will be our guide on our newly renamed Arthur Ashe Boulevard, riding boldly and fearlessly into the future!"
VMFA board of trustees President Dr. Monroe Harris also addressed the crowd. Referring to Wiley's sculpture, he stated, "It's absolutely monumental in pure size and beauty. But it's also monumental in the message that it gives. It says that a Black man or Black woman can be displayed in regal splendor on a horse in the capital of the Confederacy."
State Senator Brad Hoyleman's remarks were pointed. "Thank you," he told Wiley, "for continuing to inspire us as New Yorkers, as Americans to battle racism—racism that sadly extends across our country all the way to 1600 Pennsylvania Avenue."