Treated like trash: report shows how commercial waste lands in poor, Black and Brown hoods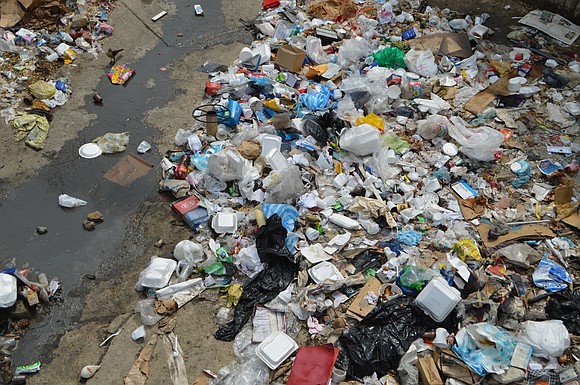 A new report exposes the environmental racism that's commonplace in New York City.
"Trashing New York's Neighborhoods," a report by the New York Lawyers for Public Interest, revealed that the city's commercial waste transfer stations have increased their trash output by 35% (more than 500,000 tons per year) since 2015. Most of that increase has been dumped in disproportionately low-income communities and communities of color like the South Bronx, northern Brooklyn and southeast Queens, playing a factor in higher rates of asthma and other respiratory illnesses.
According to the report, the sanitation industry's increasing reliance on polluting and unequal waste disposal has undermined the city's efforts to equitably spread the burden of waste disposal equally across the five boroughs.
"NYLPI's been working in coalition with environmental justice communities for many years to address the environmental racism filled in our solid waste management system," Justin Wood, director of organizing and strategic research for NYLPI, told the AmNews. "We actually worked with the environmental justice alliance and others to pass a law last year that is just going into effect now to limit the amount of garbage that can be handled by private waste management companies and stations in poor communities and communities of color."
The Waste Equity Law (Local Law 152) is scheduled to go into effect this month and the NYPL believes the city needs to pass that along with comprehensive legislation to make the commercial waste industry sustainable, equitable and efficient. A robust version of the Commercial Waste Zones Bill (Intro 1574 of 2019) will give the City the policy tools needed to reduce garbage truck emissions, reduce the amount of commercial waste generated in New York City, and ensure that commercial waste does not continue to be disproportionately handled in communities overburdened by pollution and health problems.
Wood told the AmNews that the bill has the support of City Council Speaker Corey Johnson.
"We want to make sure that the private side of the garbage industry is also going to create better facilities like the one on the affluent Upper East Side," said Wood. He also admitted that the UES facility was fought against by local residents through the courts leading to multiple delays.
Council Member Antonio Reynoso said a commercial waste zone system would instill equity into the private sanitation industry while simultaneously abiding by environmentally sustainable practices. He also said it would meet strict labor and safety standards and manage better shifts for workers.
"Communities of color, like my district in Williamsburg, have long borne the consequences that come with handling a disproportionate amount of our City's trash," stated Reynoso. "Advocates and I have fought tirelessly to instill equity into our City's waste processing system by limiting the amount of trash handled in overburdened districts and by advocating for export by barge rather than trucks. Data from a recent report by the Transform Don't Trash Coalition shows that our efforts are being undermined by the private carting industry's increased reliance on trucking for the export of commercial waste."