Dermot Shea's a Republican. Does it matter?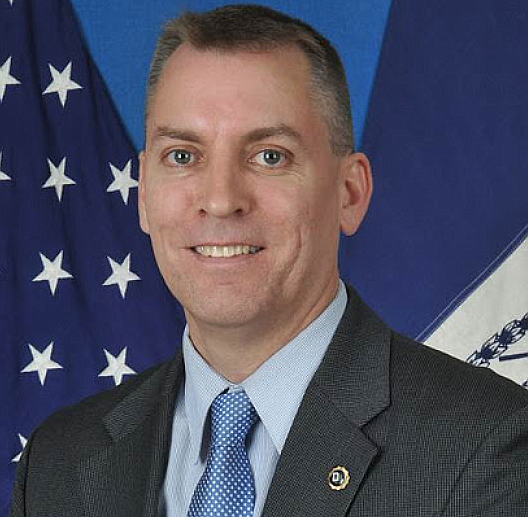 When Police Chief Dermot Shea was promoted to police commissioner, New York City Mayor Bill de Blasio told NY1's Errol Louis that he "…had watched Dermot Shea's work for six years ––when you work shoulder-to-shoulder with someone for six years you really figure out who they are."
A few groups are worried that who Shea really is spells doom for them.
Shea's been a registered Republican since 1994. The 50-year-old also voted in the 2016 presidential election. While that might not have been a big deal as little as 20 years ago, it now means something different. A Trump-branded Republican Party has changed the meaning of conservative. While one can argue that the current president is saying the quiet part out loud for the Grand Old Party, it doesn't make it any better for marginalized Americans.
In an emailed statement, the Communities United for Police Reform Action Fund said that Shea's political affiliation is no surprise given the operations he's overseen which have hurt marginalized New Yorkers.
"It comes as no surprise that NYPD Commissioner Dermot Shea is a card-carrying member of Trump's Republican Party," read CPR's statement. "It helps explain his blanket opposition to common sense police accountability like the repeal of NY's police secrecy law (50-a), and his Trumpian fear-mongering and misinformation campaign to roll back new and long-needed bail and discovery laws."
CPR also had some words for the mayor.
"It's shameful that a self-described progressive mayor and Trump critic like de Blasio appointed and allows Shea to advance right-wing politics that undermine democratic legislative processes, target homeless New Yorkers, and expand abusive policing," concluded CPR's statement.
Anti-bail reform stories have flooded the daily tabloids since it became law. Stories of arrestees being released and then committing other crimes after being freed have muddied the waters on what the law's supposed to do. Democratic elected officials have remained mum while criticism has increased, but other organizations have fought on their behalf.
"Despite dwindling crime rates and promises of a fairer justice system, New York officials are doubling down on efforts to undermine our progress on bail reform," said Clarise McCants, Criminal Justice Campaign Director for Color Of Change. "NYPD Commissioner Dermot Shea, Mayor Bill DeBlasio, and Governor Andrew Cuomo, as well as legislators in Albany, have been fighting the facts on bail reform with fear, scaring New Yorkers into embracing an outdated, racist, lock-em-up system over smart, sensible, and effective reform."
The rhetoric that oozes out of the department that Shea oversees isn't limited to the tabloids. In an emailed statement to the AmNews, Citizen Action of New York Political Director Stanley Fritz said that Shea's affiliation is concerning considering other recent activities involving local Republicans.
"Right now New York's Republican Party is engaged in a coordinated racist fear-mongering campaign to undermine bail reform laws on the books," said Fritz to the AmNews. "A report published today revealed that a 166,000-member Facebook group managed by state Republican officials to drive their anti-bail reform message on social media is helping extremist groups and white supremacists spread hateful messages and recruit for their causes.